FRENCH RIVIERA YACHT CHARTER
Glamourous lifestyle and gourmet cuisine to make you feel a whole world away from home on your charter yacht
Destinations
The stunning coastline extends from Monaco up to Saint Tropez and is the quintessential Mediterranean yacht charter destination. Swim in beautiful coves, take advantage of water sports, party all night long, relax at world-class spas, play a round of golf or simply wander around cobblestone streets. The French Riviera has many treats in store from beautiful sandy beaches to picturesque Provencal villages, historic monuments, vibrant nightlife, fine dining and fabulous shopping. The season starts with the Cannes Film Festival as well as the Monaco Grand Prix and extends from May to October. There is an unrivalled energy along the coast during the busy summer months while the off-season is quieter. The French Riviera is a short cruise from Corsica and the Italian Riviera which can be great for a combined itinerary if time allows. Speak to our charter planners now and start planning your French Riviera yacht charter.
Experiences
CRUISE! DISCOVER, TASTE, VISIT & ENJOY
At Talamare, we believe that experience can turn a special yacht charter into an extra special one. Take a look at the few examples below and contact our charter planners for details and recommendations.
The real taste of Truffle
At Bruno's, you will be welcomed in the family Provençal farm surrounded by olive trees and located in the back country of Saint Tropez. You will discover a gastronomic and generous cuisine around the truffle. An exceptional address where truffle is cooked in all its forms. Depending on the season, the chef adapts his cuisine to seasonal products whether it be meat or fish. At the end of your dinner, don't forget to take a walk in the kitchen.
Oenological tour
If you are a true wine lover, we recommend you embark on a tour to visit some of the best wine estates. The French Riviera produces great wines whether it be rosé, red or white wine. This is the occasion to discover the heritage of French local products as well as to explore some beautiful typical medieval villages. This is a guided tour with comments by a local English-speaking guide and followed by a wine tasting session.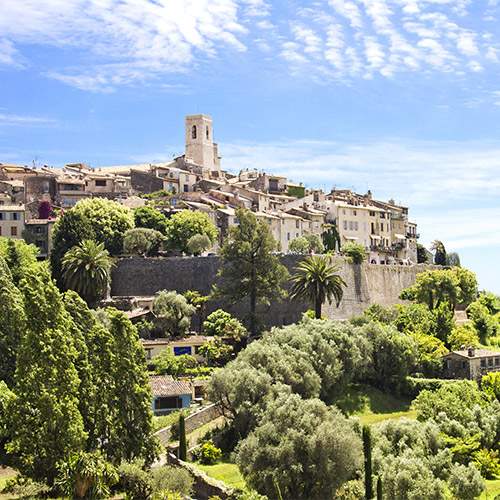 The true Provencal atmosphere
We recommend you venture inland to visit some picturesque villages such as Saint-Paul-de-Vence, Eze, Valbonne… Our charter planners will arrange everything you need from car transfer to restaurant booking and private guided tour. Each village has its own attractions. If you head to Saint-Paul-de-Vence, you will discover art galleries and the superb Maeght foundation. Head to Grasse if you want to learn about the secrets of the world of perfumery.