Let us guide you through the exciting process of yacht chartering

A holiday you'll never forget
With years of experience in yacht charter planning and extensive knowledge of Mediterranean cruising destinations including the French Riviera, our team is ready to guide you through the enjoyable process of planning your next yacht charter. Spending time onboard a yacht is an experience like no other: whether you dream of a relaxing holiday, some quality time with your family, discovering new places, enjoying the thrills of water activities, partying with friends… there are a myriad of opportunities during a yacht charter.
The success of any yacht charter depends primarily on the yacht, the crew and the cruising itinerary - of course, it also depends on the guests onboard but that's your part of the job! With hundreds of options available on the market, we take up the challenge of picking the right yacht for you and suggesting boats and destinations we think are best suited to your requirements.
First-time charterer?
The process of chartering a yacht is tremendously exciting but we understand it can also be intimidating for those who are new to the world of yacht charters. It can indeed be quite confusing and that's why we have put together a guide to help you understand the basic principles of chartering. If you need additional information on any subject, please contact us and we'll give you the relevant explanation! So don't worry if you don't know a thing about boats, we'll make your first experience as simple, transparent and fun as it can be.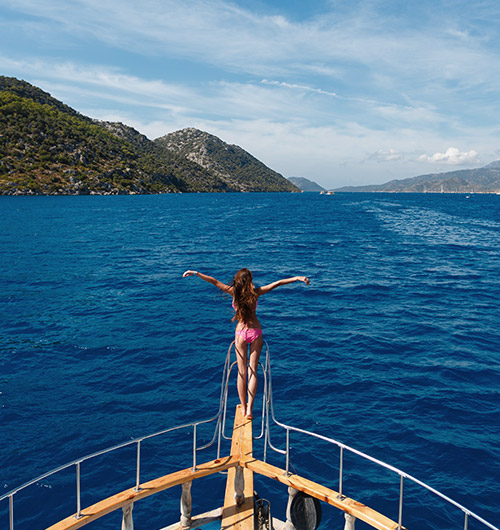 How does Talamare create a tailor-made charter?
We're not like any yachting company you'll walk past on the port, or any booking platform you might stumble across the Internet. We're here to advise you, to guide you, to inspire you, to create a charter which is just right for you and to ensure your time onboard is as memorable as it should be.
First, let's talk about you…
We have yachts available for a great range of budgets, number of guests and in different cruising areas. The more you can tell us about your requirements, the better. If the details aren't all pinned down yet, don't worry, your personal charter planner will work with you to narrow down the options.
then we'll bring you our matchmaking skills…
Now that we've got to know you a little better and that we understand what you're after, we'll start researching the market to find the best yacht which will fit your group size and budget in your desired cruising area. We'll work around your schedule and keep looking for options until we find THE ONE.
to make you fall in love…
Once you've chosen your yacht and that availability has been confirmed by your charter planner, you will receive the charter agreement to fill in and return. After you've returned the signed contract and successfully paid the deposit, your yacht charter will be officially confirmed.
later on we'll lay down every detail…
Your dedicated charter planner will work hand in hand with your Captain, creating the perfect itinerary and overseeing every detail from the food provisioning to the restaurant bookings on land or the organisation of tours and activities. We'll tweak things until it's completely perfect and brief the crew on all your preferences.
before you take the plunge…
It's time to relax and enjoy your yacht vacation! If you need anything at all during your cruise, just give us a call! We're on hand 24/7 if you need us. We all want to make your trip extra special for you.
and finally come back to us!​
We don't send spam mail or do mobile harassment but we like to stay in touch because we value your feedback. One of the most important things for us at Talamare is the individual relationships that we forge with our clients. Next time we won't do the small talk because we remember what you like, dislike, where you've been and where you want to go.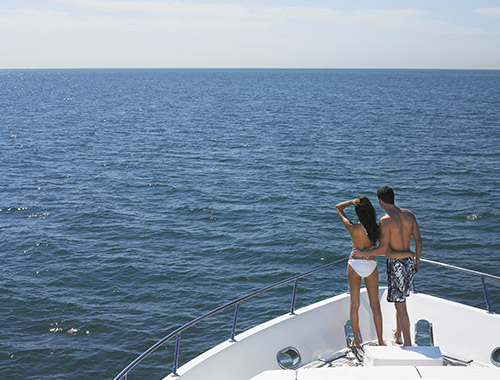 The benefits of getting assistance from a charter planner
Using the expertise of our charter planners is the best way to ensure your yacht charter is at the height of your expectations.
Our charter planners work directly with yacht operators and are independent of any particular boat owner. That is why we are able to screen the entire market for you and provide unbiased advice and clear guidance. Our objective is to put you on the right boat because we want you to come back next year and recommend us to your friends. We will negotiate the best charter rates on your behalf and help with all the logistics before, during and after your yacht charter. We are here to assist you at all times and make your yacht charter the highlight of your year.
Help, I need somebody
Chartering a yacht is an exciting journey and you may have questions about the process.
We are here to guide you through it and make this journey as enjoyable as possible. Below is a list of the most frequently asked questions.
If you don't find the answer you're looking for, please don't hesitate to contact us.
MATCHING SKILLS
I am page 4 of your gallery and a bit confused now… how do I select the best boat to suit my needs ?
Our charter planners will guide you through the process of selecting the perfect yacht. Once your requirements are clear for us, we will send you a selection of yachts that we think are suitable for you. Of course, your honest feedback is highly appreciated to take things further. Note to new clients – don't be put off by the look or the age of a yacht… there are designers out there who do brilliant things and such yachts can prove to be amazing options at a much cheaper price than newly built yachts.
CHARTER RATE
I don't like bad surprises, so let's be honest, what's included in the charter rate ?
The charter rate includes the yacht provided in full commission and with all necessary equipment, properly insured for marine risks and managed by a crew, whose wages, food and clothing are payed by the owner. All operating costs will be at your own expense and include (but are not limited to) fuel, provisioning of food and drinks, communications, custom clearance, local taxes, port fees, motorised water activities.
VAT
I know it's a bit daring, but do I really have to pay the VAT ?
Our charter planners will always inform you of the VAT to be paid based on the latest regulations. VAT will be added to your charter rate whenever applicable. However, the rate depends on which national waters you are cruising in.
APA
I'm not familiar with your yachting jargon, so please explain what APA means ?
APA stands for Advance Provisioning Allowance. The APA is requested at the final payment to cover operating expenses such as fuel, food, drinks, port fees… These funds will be given to the Captain before the start of your charter so that he can fuel and provision the yacht for your specific needs before you step onboard. During your charter, you can ask the Captain for an up-to-date summary of the accounts at any time - there is no mark-up so you pay everything at cost and you can check the receipts. If, during the charter, the expenditure exceeds the sum already paid, additional funds will be required. Of course, any APA left at the end of your charter will be reimbursed to you in full. The APA is usually calculated at 30% of the charter fee.
DELIVERY FEES
I like to make things easy so I've chosen a yacht based in Italy but I want to embark in France, who pays for the delivery ?
If you are planning to embark and/or disembark in a port which is not the yacht's home port, delivery and/or redelivery fees may be applicable based on the fuel consumption of the transfer.
SECURING A YACHT
I have completed my part of the job and selected my yacht, now I don't want to lose it, so what do I have to do next ?
Once your personal charter planner has confirmed the availability of the yacht you've chosen and that we have agreed on your port of embarkation/disembarkation, you will receive a charter agreement to sign along with a request for payment to secure the booking.
PAYMENT PROCEDURE
I have chosen my yacht, I now understand that I have to pay, how does it work ?
In order to confirm your booking and once you've signed the charter agreement, you will be asked to pay a deposit representing 50% of the total charter fee. The final balance is due one month before you embark and consists of the remaining 50% plus APA, VAT, security deposit, delivery fees and any additional charges (if applicable).
PRICE MATCH
I couldn't help but browse the Internet and found the same yacht promoted by several other charter companies, why should I trust you ?
Most likely you will find some of the yachts we advertise on other websites. However, the pricing will always be the same or better on our website. If by any chance you find a better price somewhere else please let us know so that we can offer you the same, if the other website is indeed reliable. All of our clients are looking for the best rate and the best service all rolled into one and that's what we offer.
FOOD AND DRINKS
I tend to be quite picky as regards to what I eat and drink, what can I expect to be served onboard ?
Once your charter is confirmed, your charter planner will invite you to fill in a questionnaire which outlines all details of your charter: food and drink preferences, allergies, dietary and medical requirements but also travel plans, guest list, itinerary, activities... When complete, we will pass it on to your Captain and crew so that they can start arranging the best charter for you.
PLANNING AND EXTRAS
I would like to book some extras, can you help ?
We are always happy to suggest cruising itineraries, activities, restaurants… based on your tastes, desires and plans. We will liaise daily with your Captain to ensure everything runs smoothly and you have the best time onboard. A private concierge service is available for all Talamare clients and our team takes care of all the arrangements you need whether it is a restaurant booking, a private diving lesson, an airport transfer…
CANCELLATION POLICY
I am very much looking forward to my charter but what if for some reason I just can't make it ?
The cancellation policy varies from one contract to another. As per MYBA terms, if for some reason you have to cancel your charter, the owner of the yacht may retain the full amount or just the deposit. The amount retained depends on the timing of your cancellation. For instance, if you cancel after payment of the deposit but before payment of the second installment, the owner is entitled to retain the deposit paid. If the entire charter fee has been paid, the owner is entitled to retain the entire amount – only the APA will be returned in full. Talk to our team to examine all options.
CHARTER CONTRACT
Could you please explain what a MYBA charter agreement is ?
MYBA is the Worldwide Yachting Association which was founded in 1984 and requires yachting professionals to hold a particular insurance and abide by specific terms and conditions. By chartering with us, you benefit from the best procedural safeguards available across the industry.
TIPS FOR THE CREW
I may consider rewarding the crew if they are super nice, what do you think ?
Tipping the crew is discretionary but it is customary for a charterer who has experienced a great service onboard to extend a gratuity. Tips usually represent between 5 and 15% of the charter fee and are adjusted upwards or downwards based on your level of enjoyment. If you are planning to tip the crew, we recommend you entrust the Captain with the envelope so that every crew member, including the inconspicuous ones such as the engineer or the galley assistant, can be rewarded.
LAST MINUTE BOOKINGS
I am planning to drive you nuts by booking last-minute, is that OK with you ?
Our responsiveness and professionalism enable us to deal with last minute enquiries and turn them into successful charters like any other. However, and as you will understand, sometimes the choice will be limited. So, to answer your question, yes this is absolutely fine with us. But we recommend you book as far in advance as you can, whenever possible, if you want to increase your choice.
LARGE GROUPS
Do you have yachts available for over 12 guests?
Most of the yachts available on the charter market have a limitation of 12 guests onboard when cruising. This is due to maritime regulations. Luckily, there are a number of yachts that can accommodate a larger number of guests. However, as there are not that many around, we would recommend you contact us as soon as possible if you are considering chartering with a large group so that we can secure the best option for you.
WATER TOYS
I am SO excited to try the water toys, am I allowed to use all the equipment onboard ?
In most countries, a license is required to use water toys such as waverunners and other mechanically propelled watercraft (no license needed for a seabob). In the same way, only certified divers are allowed to scuba dive (PADI license or equivalent). If you don't have the appropriate license, our team can arrange an instructor to come onboard, teach you and, if you're good at it, issue a license (this will be at your own cost and subject to instructors being available in your cruising area). Kindly note that motorized water activities are prohibited in certain cruising areas.