The peace of mind you're looking for

HAVE YOU EVER THOUGHT OF CHARTERING YOUR YACHT TO OFFSET OPERATIONAL EXPENSES?
If you find it difficult to be onboard as often as you would like to, chartering your yacht can be an interesting option. We know your yacht is your favourite toy and that choosing an agency to represent your interest will be a matter of utmost trust.
At the moment, we are particularly looking for yachts in excellent condition with a professional crew onboard and based on the French Riviera. Whatever motivates you to consider chartering your yacht, we're glad you've found us and will be honoured to start a discussion. If you're already marketing your yacht, it could be worth finding out if we can fill in some gaps.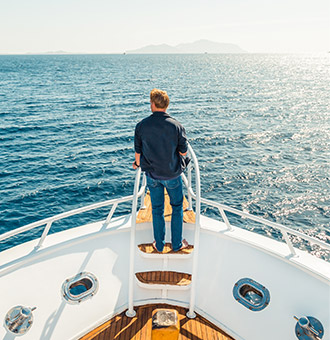 Talamare is the representative agent of a selected number of yachts available for charter. Each yacht of our fleet is actively promoted to our international clients as well as through a network of industry professionals we work with. Your yacht is advertised on our newly launched website as well as other marketing supports such as our charter brochure and regular customer newsletters. Our main objective is to ensure your yacht gets the optimum number of bookings to fit your expectations, whether that's filling in gaps to keep the yacht running while you're not onboard or securing charters the whole summer.

Our team has many years' experience in organising yacht charters. At Talamare, we pride ourselves in offering some of the best yachts available for charter in the Mediterranean. We ensure both our owners and clients have the best possible experience with yacht chartering.
WE ARE THE RIGHT PEOPLE
We will always visit your yacht prior to promoting her on our website, we like to know what we are selling and we want to make sure she will meet our standards. It is also very important to us that we agree on the availability, pricing and management strategy.
We offer recommendations on how to improve the attractivity of your yacht – we've been doing this for years so we know a thing or two about maximizing charter revenues! We work with your crew to plan the charters and provide them with contact support.
WE DO THINGS THE RIGHT WAY
Our charter planners handle everything from guest communications to charter agreements, yacht marketing and payment reception. We respond to charter enquiries 7 days a week 24 hours a day and never miss an opportunity to secure a charter on your yacht..
WE FIND THE RIGHT GUESTS
We promote your yacht to an international clientele and are very lucky to have many repeat clients who come back to us year after year. Talamare also teams up with a number of travel agencies, private conciergeries and hotels who trust us with their clients' vacations.