MONTENEGRO YACHT CHARTER
Montenegro is fast becoming the place to go in the Adriatic so hurry up before the rest of the world finds out about this wonderful yacht charter destination.
Destinations
In recent years, Montenegro has become a yacht charter hotspot boasting a reputation as one of the most preserved yachting destinations in the Mediterranean sea. Montenegro has an eclectic landscape of dramatic mountains, stunning beaches and mystical forests. Home to beautiful fjords, old winding towns, picturesque fishing villages and crystal-clear waters, the small republic offers everything a yacht charterer can dream of. After the success of Porto Montenegro, other marinas projects are being carried out in the bay of Kotor, turning the area into a major spot for international yachting and luxury tourism. A Montenegro yacht charter can be easily combined with a Croatia yacht charter. Contact our team to discuss sailing itineraries and boat rental options. We can offer various types of boats including luxury motor yachts and sailing yachts.
Experiences
CRUISE! DISCOVER, TASTE, VISIT & ENJOY
At Talamare, we believe that experience can turn a special yacht charter into an extra special one. Take a look at the few examples below and contact our charter planners for details and recommendations.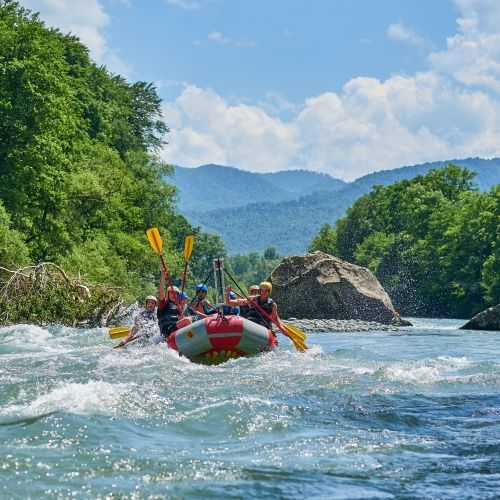 Rafting in Tara
The legendary Tara River Canyon is the second deepest canyon in the world after Grand Canyon. The rafting descent is an unforgettable experience. Do not miss Zabljak, a famous winter ski resort, where you can dine in log cabins.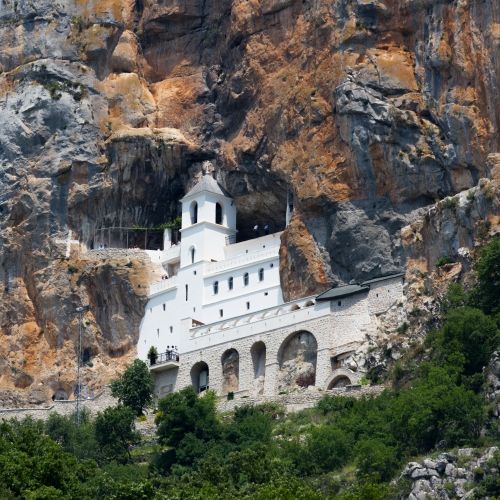 Visit a monastery
Ostrog is a spectacular hillside monastery built into the rock in the 17th century as a shelter against the Ottoman Empire. Nowadays, the place is a major pilgrimage destination for Christians.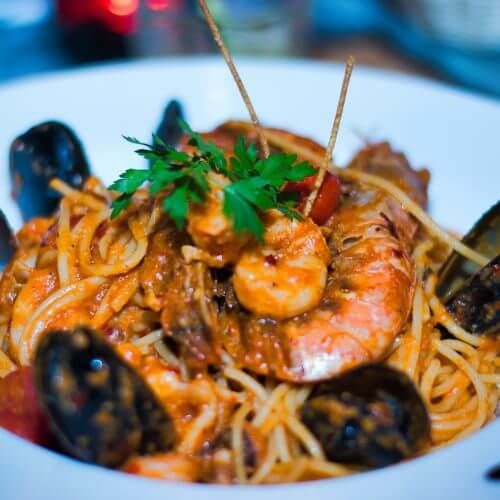 Ribarsko Selo
A lovely informal restaurant overlooking a beautiful bay. Probably the freshest seafood across Montenegro. Our favourite: monkfish in a truffle sauce and the mussels pasta. The stone terrace is just gorgeous.
Our favourite spots
Budva
Budva is a colourful, lively and festive city. The city's vibrant nightlife makes Budva a very popular place to visit in Montenegro. Its surprisingly well-preserved medieval old town is full of cobbled alleys lined with shops, restaurants and bars.
Astoria
Restaurant
A lovely boutique hotel with an attractive rooftop. Perfect for drinks and dinner at sunset.
Astoria Hotel - Njegoseva 4 - Budva 85310 - +382 33 451 110
Konoba Stari Grad
Restaurant
A traditional restaurant located in the old town which serves great seafood with live music.
Konoba Stari Grad - Njegoseva 12 – Budva 85310 - +382 63 225 410
Kotor
The bay of Kotor boasts incredible landscape with dramatic mountains plunging into the Adriatic, Venetian churches… Classified by the UNESCO, the medieval town of Kotor boasts picturesque castles and some very interesting relics from Antiquity.
Galion
Restaurant
For a sophisticated dinner with great views. The restaurant serves an international cuisine fused with local ingredients.
Galion - Suranj bb - Kotor 85330 - +382 32 325 054
Catovica Mlini
Restaurant
An ancient water-driven flour mill which has been turned into a lovely fish restaurant. The ideal spot if you are looking for a relaxed lunch or dinner in an original setting.
Catovica Mlini - E65 - Morinj 85338 - +382 32 373 030
Konoba Feral
Restaurant
For affordable Montenegrin meals, head to this lovely tavern. The grilled calamari is great and we recommend you try the wine from the Savina monastery.
Konoba Feral - setaliste Pet Danica 47 - Herceg-Novi 85340 - +38188322232
Castle of San Giovanni
Curiosity
Climb up to Saint John Castle for an amazing panorama of the entire bay.

Sveti Stefan
Once a fishing village, the private island of Sveti Stefan was transformed into a hotel in the 1950s and soon became a hideaway for privileged clients. It is now occupied by the most stylish hotel of Montenegro.
Aman
Restaurant
Lined with olive trees and pine forest, the Aman Spa is the perfect place to relax on a yacht charter in Montenegro. Rustic but refined, the hotel is insanely elegant. Indulge yourself in a spa treatment or dine at the famous restaurant.
Aman Sveti Stefan - Sveti Stefan 85315 - +382 33 420 000
More information
Selection of yachts available in MONTENEGRO
view all