ITALIAN RIVIERA YACHT CHARTER
The Italian coast rivals its French counterpart with its striking beauty, natural landscapes, history and culture – embark on your Italian Riviera yacht charter and explore this gorgeous costal area.
Destinations
The Italian Riviera is by far the most scenic cruising area of the Western Mediterranean and makes an ideal destination for a luxury yacht charter. The mountains and the sea collide to create a dramatic coastline with rocky cliffs, coves and grottos. This beautiful stretch of coastline if famous for its enchanting multi-colored fishing villages located in the Cinque Terre. Iconic Portofino adds a touch of chic and glamour to the coast with its designer boutiques and world-class restaurants. All along the coast, the hills are covered with terraced vineyards and olive groves. Explore seaside towns, swim in hidden coves, treat yourself with authentic Italian cuisine… A yacht rental on the Italian Riviera offers a mixture of authentic charm and stylish glamour along with a stunning natural beauty and rich history. If you are chartering for a week or more, this can be ideally combined with the French Riviera. Need help in choosing the right yacht for your Italian Riviera yacht charter? Talamare are on hand to help with a great selection of motor and sailing yachts.
Experiences
CRUISE! DISCOVER, TASTE, VISIT & ENJOY
At Talamare, we believe that experience can turn a special yacht charter into an extra special one. Take a look at the few examples below and contact our charter planners for details and recommendations.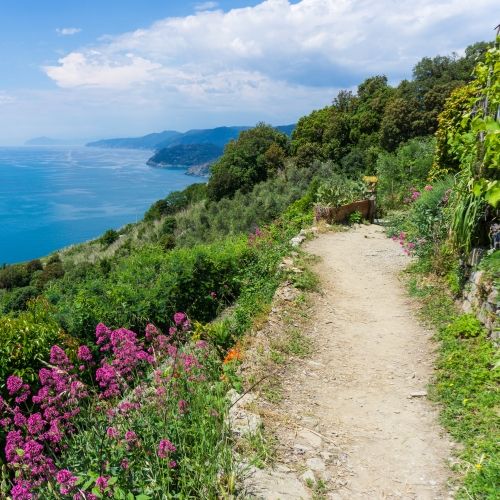 Hiking in the Cinque Terre
Cinque Terre is one of the most beautiful regions in Italy. The best ways to discover this World Heritage Site is to walk the trails that connect the 5 villages to each other. Medieval castles, monuments and churches in the Genoese Romanesque style, vineyards and olive groves in terraces, panoramic views of the Mediterranean… these unique landscapes will delight the hikers.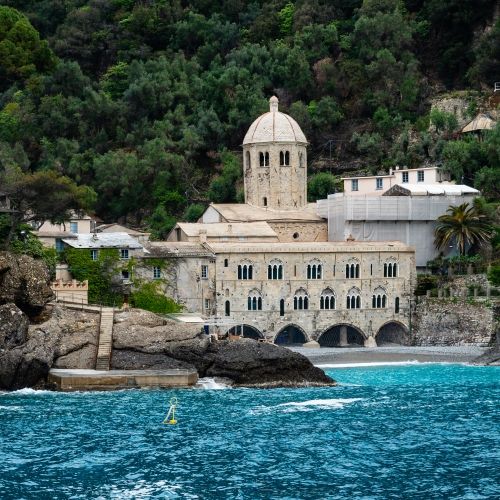 The best kept secret on the coast
Enjoy seafood in San Fruttuoso, a tiny fishing village built around a 13th century abbey. The place is only accessible on foot (1h30min walk) or by boat. This quiet bay is undoubtedly one of the most charming in Italy. It is also in this bay that divers can discover the Christ of the Abyss.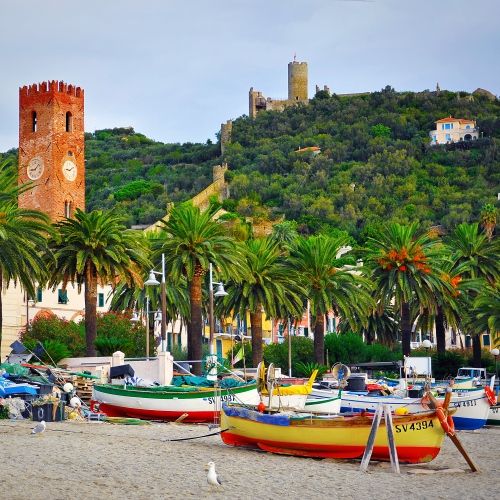 Explore a fortified village
Noli is a small seaside resort situated along the Riviera di Ponente. After discovering the long sandy beach and fishermen's harbour, head towards the historical centre. This small Italian village has retained all its authenticity with lively squares, cafés, alleys and medieval towers.
Our favourite spots
Cinque Terre
Set along a beautiful rocky coastline, the 5 villages of Cinque Terre are best explored by the sea. The colourful seaside villages are built directly into the cliffs and linked by one of Europe's most scenic footpath. The coast also boasts hidden creeks, perfect for a swim on a yacht charter.
Miky
Restaurant
Our favourite restaurant in Cinque Terre. Chic marine style interior, quality cuisine, impeccable service. Don't miss the anchovies cooked with the Monterosso style and the trenette alla pescatrice.
Miky - Via Fegina 104, 19016 Monterosso al Mare - +39 0187 817608
L'Ancora della Tortuga
Restaurant
Built in the cliff, this waterfront restaurant has a charming setting. We love the delicious Ligurian cuisine served on the beautiful terrace above the sea.
L'Ancora della Tortuga - Salita dei Cappuccini, 4 - 19016 Monterosso al Mare - +39 0187 800065
Belforte
Restaurant
The Ristorante Belforte is perfect for a terrace lunch in the charming village of Vernazza. Exceptional view, good Ligurian cusine and friendly staff. Try the tagliolini al nero di seppia con gamberi e alghe, awarded best Ligurian dish in 2014.
Ristorante Belforte - Via G. Guidoni 42 - 19018 Vernazza - +39 0187 812222
Trattoria Dal Billy
Restaurant
Located at the top of the village of Manarola, this restaurant is well worth the walk. Try the fish carpaccio or the handmade pasta or in fact any other dishes as this restaurant only serves fresh products and the chef is a star.
Trattoria Dal Billy - Via A. Rollandi 122 - 19017 Manarola - +39 0187 920628
Il Pescato Cucinato
Restaurant
A tiny restaurant which serves fried seafood, fries and vegetables in paper cones. Fritto Misto is the best!
Il Pescato Cucinato - Via Cristoforo Colombo 199 - 19017 Riomaggiore - +39 339 262 4815
Genoa
The world heritage city of Genoa is home to a number of beautiful historic palaces and buildings. The city centre is great for museums and art galleries as well as designer shops. Genoa also has one of the largest aquariums in Europe.
Zeffirino
Restaurant
This renowned restaurant gives you the opportunity to experience a refined cuisine combining all the flavours of Liguria and the excellence of Italian gastronomy. A must-try is the pesto.
Zeffirino - Via XX Settembre 20 - 16121 Genova - +39 010 897 0079
Capo Santa Chiara
Restaurant
Located in a small, charming bay, the beautiful terrace of Capo Santa Chiara overlooks this a fishing port. Try the grilled squid or the sea bass with pesto.
Capo Santa Chiara - via Al Capo di Santa Chiara 69 - 16146 Genova - +39 010 798 1571
Garibaldi 12
Shopping
Installed in a palace dating from 1552, the concept store offers a fine selection of contemporary objects and furniture. The marble columns, gilding and painted ceilings are worth the visit.
Garibaldi 12 - Via Garibaldi 12/1 - 16124 Genova
More information
Spianata Castelletto
Curiosity
Genoa is a city that is best admired from the top. Take the Castelletto elevator to admire the beautiful panorama.
Belvedere Montaldo - 16124 Genova
Trattoria Rosmarino
Restaurant
A typical trattoria that serves quality cuisine in a great atmosphere.
Trattoria Rosmarino - Salita del Fondaco 30 - 16123 Gênes - +39 010 251 0475
Portofino
Once a fishing village, Portofino has become the most popular seaside resort of the Italian Riviera. With its colorful waterfront, tiny charming streets, art galleries, designer boutiques and fancy restaurants, Portofino is the resort of choice for discerning travelers.
La Terrazza
Restaurant
La Terrazza is located in the Hotel Splendido and is undoubtedly one of the most spectacular setting of Italy. Perched over Portofino bay, the restaurant serves seafood, pasta and local specialties, all cooked to perfection.
Belmond Hotel Splendido - Via Roma 2 - 16034 Portofino - +39 0185 267801
More information
Chuflay
Restaurant
For dinner, head towards the terrace of Chuflay, which is located on the lively square of Portofino. The restaurant is part of the Belmond Splendido Mare and serves authentic Ligurian cuisine.
Belmond Hotel Splendido Mare - Piazza Martiri dell'Olivetta - 16034 Portofino - +39 0185 267802
More information
Puny
Restaurant
Another great restaurant on "la piazzetta". Puny's signature dishes include baked fish with laurel, potatoes and olives as well as sea bass baked in salt.
Ristorante Puny - Piazza Martiri dell'Olivetta - 16034 Portofino - +39 0185 269037
Via Roma
Shopping
The main shopping street in Portofino to browse designer shops including Gucci and Hermès. Luca 1959 is a great address for unique pieces of jewellery.
Via Roma – 16034 Portofino
Santa Margherita Ligure
A few miles away from Portofino, Santa Margherita Ligure offers a glimpse of authentic Italy with its lovely buildings, churches, cafés and ice cream shops.
MOG
Restaurant
Original menu with seasonal products only. The setting is pleasant and the staff is very attentive.
MOG - Piazza Martiri della Liberta 46/47 – 16038 Santa Margherita Ligure - +39 0185 283957
Suggested tours and itineraries
view all