CORSICA YACHT CHARTER
Embark on a Corsica yacht charter to discover this true Mediterranean gem that is just as suitable for a family holiday as it is for an adventure with friends.
Destinations
With over 600 km of wild coastline, beautiful white sandy beaches, turquoise waters, marine nature parks and mountains, Corsica is one of the most enchanting Mediterranean cruising areas for a yacht rental. Besides its incredible beauty, Corsica has great restaurants, a few historic monuments and fantastic on land activities such as golf, mountain hiking, equestrian trek or natural pools. In the summer, nightlife is pretty good in Calvi and Porto-Vecchio. The island is also famed for having one of the best Italian-inspired cuisine in the Mediterranean - forget pizza and pasta though and try wild boar, fiadone and u casarone. Summer is the busiest period of the year with a great Mediterranean climate from May onwards and ideal for a Corsica yacht charter. Autumn is a great alternative to cruise Corsican waters as the weather is usually very pleasant, the sea is warm and you get less crowds. For those who have chartered a yacht in the south of France on many occasions, and want to see different landscapes, this is the perfect place for your next charter. The proximity to Sardinia is great for a combined itinerary.
Experiences
CRUISE! DISCOVER, TASTE, VISIT & ENJOY
At Talamare, we believe that experience can turn a special yacht charter into an extra special one. Take a look at the few examples below and contact our charter planners for details and recommendations.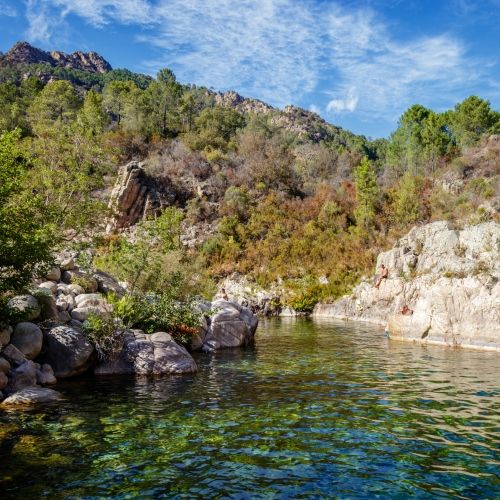 Incredible inland activities
It's pretty easy to avoid visiting the inland when you charter a yacht in Corsica. But sticking to the coast means missing some of the best activities offered by this beautiful island. Whether it is canyoning the Bavella mountains, hiking through the Gorges du Tavignano, horse riding or swimming in natural pools, Corsica offers countless possibilities.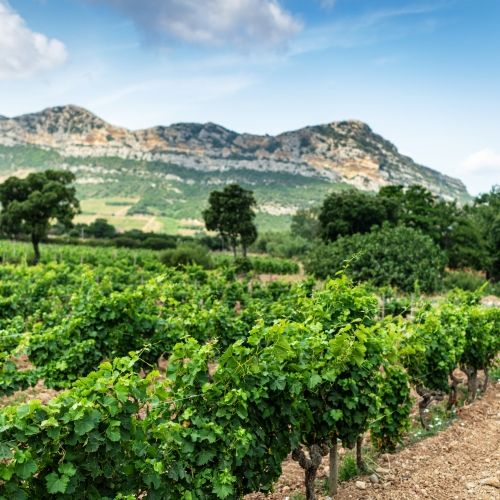 Explore Corsica's wine region
Corsica has 9 AOC regions. Depending on when you are, we can arrange a wine tour to one of these regions. Located near Porto-Vecchio, the domain of Torraccia is probably the most famous vineyards in Corsica. Its wines are served across the entire globe. Patrimonio, located west of Bastia, was the first region to receive the precious AOC designation and is renowned for the quality of its grapes as well as the beauty of its landscapes. An alternative is the modern tasting facility of Culombu located in the Calvi area.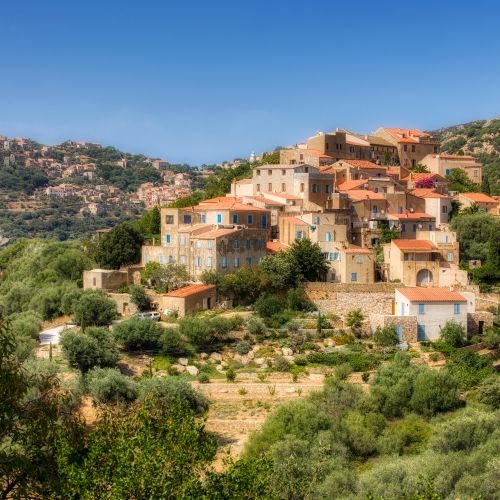 Discover the local craftsmanship
Nestled on the rocky coast of Île Rousse, Pigna is home to an important community of craftsmen. Born from a project set up in the 1960s on the initiative of a handful of idealistic artists, Pigna has now become a cultural centre of reference. Visit the workshops of craftsmen, instrument-makers, potters, engravers... where all the heritage has been preserved.
Our favourite spots
Ajaccio
Ajaccio is the capital of southern Corsica and the birthplace of Napoléon Bonaparte. Surrounded by mountains, the bustling marina is renowned for its superb waterfront, beautiful old town, relaxing cafés and magical setting in a palm-fringed bay. The town has a real charming atmosphere. Place Foch is a must with its market of local specialities (every morning until 1pm).
Le 20123
Restaurant
A typical Corsican taverna where you can experience unpretentious family-style cooking. Make your way to this restaurant if you want to experience traditional Corsican food without the slightest sophistication.
Le 20123 – 2, rue du roi de Rome – 20000 Ajaccio - +33 (0)4 95 21 50 05
A Nepita
Restaurant
Located in the heart of Ajaccio, A Nepita is a cosy restaurant with inventive cuisine and attentive service. The menu is short (2 starters, 2 mains, 2 desserts) and changes every day. Fresh produce only!
A Nepita – 4, rue San Lazaro - 20000 Ajaccio - +33 (0)4 95 26 75 68
Musée Fesch
Curiosity
The museum gathers the most prestigious collection of Italian art in France after the Louvre Museum in Paris. A must-see visit for art lovers.
Musée Fesch - 50-52, rue Cardinal Fesch - 20000 Ajaccio
Iles Sanguinaires
Curiosity
The Iles Sanguinaires is a set of four islands located in the bay of Ajaccio. This is a great place to watch the sunset!

Bastia
Bastia is the main merchant city of Corsica and its port is the first in the Mediterranean. The most popular attractions include the citadel and the place Saint-Nicolas which is the best location to feel the local atmosphere. Bastia has also beautiful religious baroque buildings such as the church "Saint Jean-Baptiste" or the "Oratoire de Saint-Roch".
Le Pirate
Restaurant
Located north of Bastia, this restaurant has a charming setting, just next to the fishing harbour of Erbalunga. This is one of Corsica's best gourmet address. We love the langoustine tortellini!
Le Pirate - 20222 Erbalunga - +33 (0)4 95 33 24 20
Grazie Mille
Restaurant
This authentic italian trattoria serves a delicious Italian cuisine: pasta with truffles, octopus, tagliatelle di manzo… The restaurant also attracts for its beautiful terrace located right on the market square.
Grazie Mille – Place du marché – 20200 Bastia - +33 (0)4 95 32 38 22
Chez Vincent
Restaurant
This pizzeria is ideally located near the citadel. The view on the old port is absolutely lovely. The pizza is great but Vincent also serves other dishes such as the swordfish salad or the beef filet in crust.
Chez Vincent – 12, rue Saint-Michel – 20200 Bastia - +33 (0)4 95 31 62 50
Bonifacio
Bonifacio is located on a narrow peninsula of white limestone. It is probably the most picturesque town of Corsica. As you approach from the sea, don't miss the King of Aragon stairway, carved in the cliffs. Explore the beautiful citadel and the charming streets which feature a Genoese architecture.
Lavezzi
Curiosity
Located in the Strait of Bonifacio, the Lavezzi is a real paradise with its granite boulders, white sand and intimate coves. The crystal-clear waters are perfect for snorkelling. For lunch, stop at the Hôtel des Pêcheurs.
Hôtel et Spa des Pêcheurs – Île de Cavallo - +33 (0)4 95 70 36 39
More information
Le Centre Nautique
Restaurant
With beautiful views over the port and the citadel, Le Centre Nautique is a great restaurant which has just been restored. It serves delicious Mediterranean food and there is a lounge bar where you can enjoy great cocktails.
Le Centre Nautique – Quai Nord du port de plaisance – 20169 Bonifacio - +33 (0)4 95 73 02 11
Da Passano
Restaurant
A tapas bar with good Corsican products. It's the perfect place to discover the local cuisine.
Da Passano – 53, quai Comparetti - 20169 Bonifacio - +33 (0)4 95 28 10 90
Stella d'Oro
Restaurant
A famous address in Bonifacio. Stella d'Oro is a small rustic restaurant where you can enjoy an authentic Corsican cuisine. The room is pretty small so booking is required.
Stella d'Oro – 7, rue d'Oria – 20169 Bonifacio - +33 (0)4 95 73 03 63
Roccapina
Curiosity
The most beautiful beach of Bonifacio, peaceful and wild. The contrast between vegetation, water and sand is simply magnificent.
Plage de Roccapina – Baie de Roccapina
Calvi
Dominated by an imposing 13th century citadel, Calvi is probably the most popular city in Corsica. With its lively nightlife, numerous cafés and the plethora of cultural attractions, Calvi is the place to stop on a yacht charter. There are great places for drinks and dinner along the waterfront walkway.
La Table by La Villa
Restaurant
A chic and sophisticated address for a romantic dinner on the hills of Calvi with beautiful sea views. The restaurant is located within the hotel of the same name. Mediterranean cooking.
Hôtel La Villa – Chemin Notre-Dame de la Serra – 20260 Calvi - +33 (0)4 95 65 10 10
More information
U Casanu
Restaurant
The best place to try local authentic Corsican cuisine in Calvi. Very simple setting but welcoming and great service.
U Casanu – 18, boulevard Wilson – 20260 Calvi - +33 (0)4 95 65 00 10
U Nichjaretu
Restaurant
A restaurant situated in a wild cove with beautiful views of the sea and mountains. Perfect for those who want to avoid crowds.
U Nichjaretu – 20214 Calvi - +33 (0)4 95 47 84 36
More information
Girolata
Girolata is undoubtedly one of the most beautiful bays in Corsica. The tiny village is located on a peninsula bordered by the sea and the mountains. It is a spectacular anchorage spot during a yacht charter in Corsica.
Scandola
Curiosity
The nature reserve of Scandola is classified as a UNESCO World Heritage Site. It's the perfect place for water activities like snorkeling. There are many sea grottoes and coves in the reserve and you can spot dolphins.
Réserve naturelle de Scandola – 20147 Corse du sud
Le Bel Ombra
Restaurant
A very good restaurant with a magnificent view on the tiny port of Girolata.
Le Bel Ombra – 20147 Girolata - +33 (0)4 95 20 15 67
L'Île Rousse
L'Île Rousse (Red Island) is a great place to hang out in the summer with plenty of restaurants and boutiques. The square Paoli (named after the founder of the city) has a lovely market.
Pasquale Paoli
Restaurant
A good local address to taste local products at a reasonable price. Nothing fancy but food is delicious.
Pasquale Paoli – 2, place Paoli – 20220 Île Rousse
Le Padula
Restaurant
On the way to l'Ile rousse from Calvi, stop at Le Padula for a delicious lunch on the beach. The terrace is very pleasant, cuisine is good and the service is dynamic. Dinner at sunset is also a good option.
Le Padula - Plage d'Aregno - 20220 Algajola - +33 (0)4 95 60 75 22
Piana
The majestic creeks of Piana are a very small mountainous chain overlooking the sea from above 400 meters. Their pink stone peaks offer beautiful panoramas. Past the creeks, the gulf of Porto is a great cruising area.
Le Café de la Plage
Restaurant
A restaurant located on the beautiful beach of Arone where you can enjoy a good Mediterranean cuisine. The grilled fish (daily catch) is of very good quality.
Le Café de la Plage – Plage d' Arone – 20115 Piana - +33 (0)4 95 20 17 27
Porto-Vecchio
Porto-Vecchio is a fortified town nestled between the sea and the mountains. It is home to two beautiful beaches: Santa Giulia and Palombaggia. Don't forget to venture into the old town which has lovely cafés and great shopping.
Le Grill at Plage Casadelmar
Restaurant
The Grill terrace overlooks the bay with a panoramic view over the sea, pine trees and red rocks. The restaurant serves a tasty Mediterranean cuisine with very good products cooked on the spit.
La Plage Casadelmar – Benedettu - 20137 Lecci - +33 (0)4 95 71 02 30
Linda Beach
Restaurant
A beach restaurant with an exceptional setting on Palombagia, the staff is friendly and the cuisine simple but very tasty. Booking is required if you want a table close by the water.
Linda Beach – Plage de Palombagia - 20137 Porto-Vecchio - +33 (0)4 95 22 41 40
Santa Giulia
Curiosity
Just off Porto-Vecchio, Santa Giulia is one of Corsica's most beautiful beaches with its turquoise lagoon and incredible white-powdered sand. The clear waters are great for snorkelling.
Plage de Santa Giulia - 20137 Porto-Vecchio
Via Notte
Nightlife
Well-known across Europe, Via Notte is a great place to party in Porto-Vecchio. In the summer, Via Notte hosts the world's greatest DJs. The club has an exceptional open-air setting and architecture.
Via Notte - Route de Porra - 20137 Porto-Vecchio - +33 (0)4 95 72 02 12
Saint-Florent
Saint-Florent is a gorgeous old fishing port with scenic mountains in the background. The Place des Portes is very lively and has great cafés. In the summer, the 15th century citadel, is turned into an exhibition center for many artists.
La Gaffe
Restaurant
Located on the port of Saint-Florent, facing the sea and mountains, La Gaffe is an excellent restaurant. The cuisine is refined without being ostentatious and the chef only cooks fresh and seasonal produce. You can also taste great wines in a vaulted cellar.
La Gaffe – Port de Plaisance - 20217 Saint- Florent - +33 (0)4 95 37 00 12
Désert des Agriates
Curiosity
40 kilometres of coastline divided between capes and white sandy beaches. A wonderful place where nature reigns supreme.

Lotu Beach
Curiosity
Lotu beach is a wild and unspoilt beach located in the Agriates desert. The place is known to have the largest concentration of dolphins in Corsica. Its clear waters are perfect for snorkelling.
Plage du Lotu – 20217 Saint-Florent
Suggested tours and itineraries
view all