Corsica & Sardinia yacht charter
Unspoilt nature, dreamy beaches, charming coastal resorts and age-old traditions, discover two of the most beautiful islands in the Mediterranean with this Corsica & Sardinia yacht charter itinerary.
8-day tour
Two countries, two islands for an unforgettable Corsica and Sardinia yacht charter! The French island of Corsica and the Italian island of Sardinia are similar in many ways. Both islands rise high out of blue waters with a dramatic rugged coastline creating some truly spectacular panoramas. Best explored by yacht and ideal for island hopping, Corsica and Sardinia boast some of the most beautiful anchorages in the Mediterranean including the idyllic Lavezzi and the marine park of La Maddalena. Corsica will appear wilder to you, with its small authentic villages and pristine beaches. Sardinia has a more prominent tourist-oriented development with many luxury resorts, high-end shopping and trendy restaurants. With its perfect mix of unspoilt natural beauty, sophistication and charm, a Corsica and Sardinia yacht rental is the ultimate escape from reality. Contact our charter specialists to start planning your Sardinia and Corsica yacht rental.
Suggested itinerary
day
1
Porto Cervo - Porto Cervo
Join your yacht in Porto Cervo for embarkation scheduled at 12:00pm. Meet the crew, settle in on board and enjoy a short cruise to a nearby anchorage. A delicious lunch prepared by your Chef will be served on board. Have a relaxing afternoon at anchor, swimming and playing with the water toys available on board. In the evening return to Porto Cervo. Spend the rest of the day ashore soaking up the atmosphere of this sophisticated seaside resort. Dinner ashore in one of Porto Cervo's exclusive restaurants. Night in port or at anchor.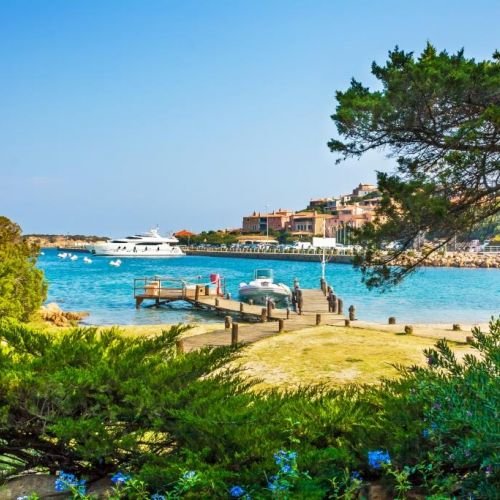 day
2
Porto Cervo - Cala Di Volpe
After breakfast, leave for Cala di Volpe. This large bay is a highly popular anchorage for yachts. Cala di Volpe has some of the most stunning and unspoilt beaches of the Mediterranean. It is an ideal spot for swimming and water-based activities. It's time to adjust to your yachting vacation! We suggest you have lunch ashore. Dinner will be prepared on board by your Chef. Night at anchor under the stars.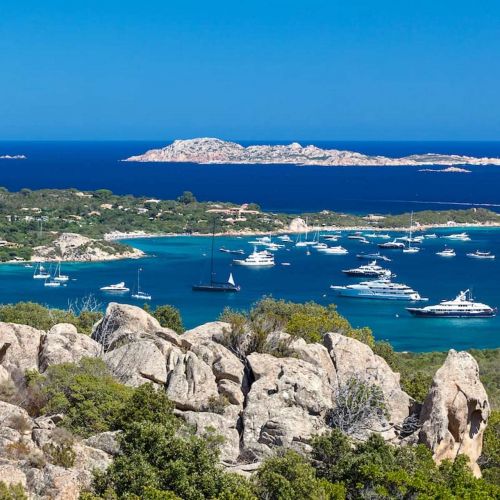 day
3
Cala Di Volpe - La Maddalena
Morning cruise to La Maddalena Archipelago, a national park located off the northeast coast of Sardinia. Spend the day cruising around the islands and stop whenever you want for a swim. La Maddalena offers gorgeous sandy and rocky beaches. The snorkeling there is particularly great. Lunch on board. In the afternoon, you can decide to experience the laid-back lifestyle of the Archipelago by exploring La Maddalena, the main island. Dinner ashore in a restaurant with beautiful sea views. Night at anchor in this absolute paradise.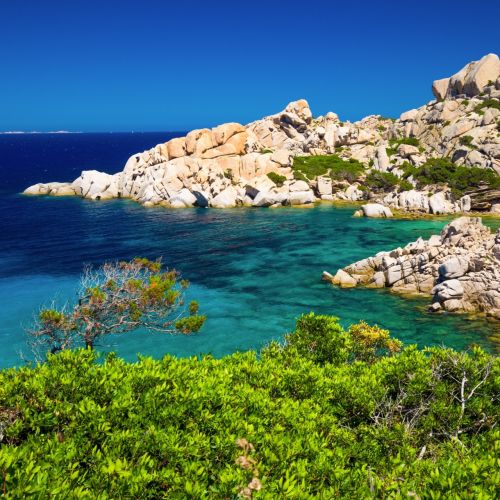 day
4
La Maddalena - Lavezzi
After breakfast, head to the marine park of the Lavezzi, a group of tiny idyllic islands made up of spectacular rock formations. The beaches are simply breathtaking with the most transparent waters. There are excellent spots to swim, snorkel and enjoy the water-based activities available on your yacht. The biodiversity is quite remarkable. This is a relaxing day spent at anchor in this dreamy environment. Both lunch and dinner will be prepared by your Chef on board. Night at anchor.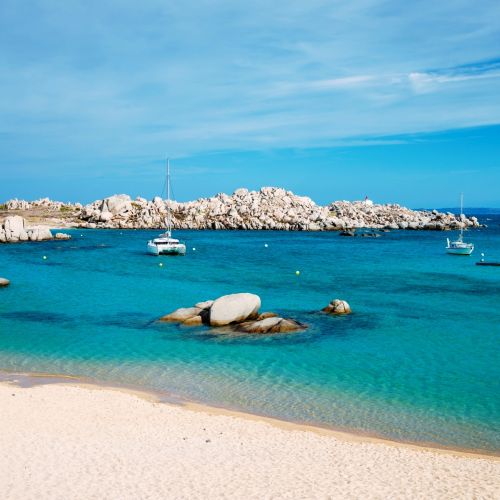 day
5
Lavezzi - Porto Vecchio
Set sail to Porto Vecchio located on the island of Corsica. The yacht will drop anchor in a scenic anchorage for your morning. Porto Vecchio boasts the most beautiful beaches of Corsica including Rondinara and Santa Giulia. Lunch ashore in a beach restaurant. In the afternoon, spend some time ashore exploring the lively town. Head up to the top of the hill and wander around the narrow streets. There are some lovely boutiques and charming squares. Return to the yacht for dinner. Night at anchor.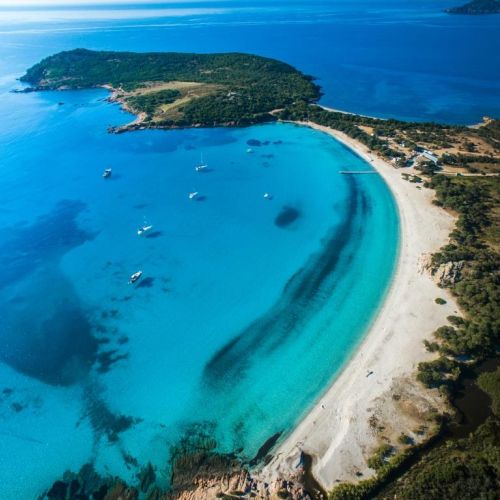 day
6
Porto Vecchio - Bonifacio
Set off mid-morning cruising towards Bonifacio, a very enjoyable coastal town dramatically built right on limestone cliffs. The entrance into the marina is particularly sensational. Take a walk ashore into the busy marina filled with impressive yachts and lined with charming bars and restaurants. You can also visit the medieval old town with its labyrinth of narrow streets and historic buildings as well as the fortress. Lunch and dinner can be taken ashore or on board depending on your preferences. Night in port or at anchor.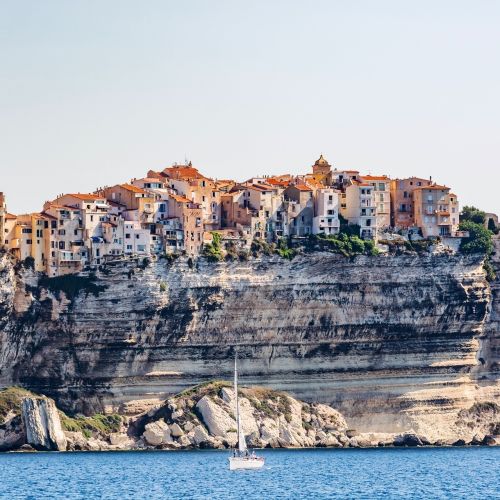 day
7
Bonifacio - Propriano
Proceed further north along Corsica's coastline. Originally a small fishing port, Propriano has turned into a popular seaside resort. Its exceptional geographical location in the Gulf of Valinco offers a privileged environment for water sports activities. Your last day is spent at anchor swimming, snorkeling and playing with the water toys. If you wish, you can also go stretch your legs ashore. There are charming little restaurants where you can enjoy fresh fish for lunch. Dinner on board. Night at anchor.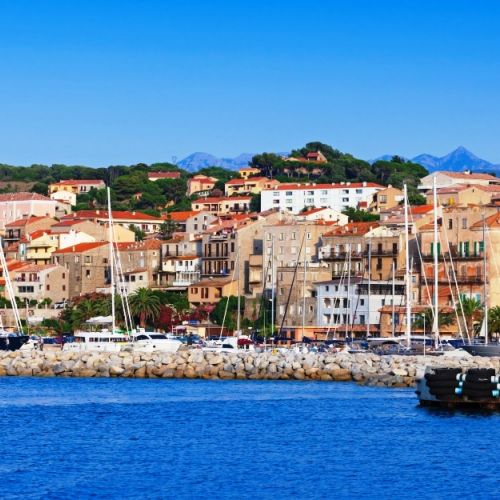 day
8
Propriano - Ajaccio
Wake up anchored off Ajaccio for a last dip in the Mediterranean azure waters. A farewell brunch will be served on board. Cruise to Ajaccio for disembarkation scheduled at 12:00pm.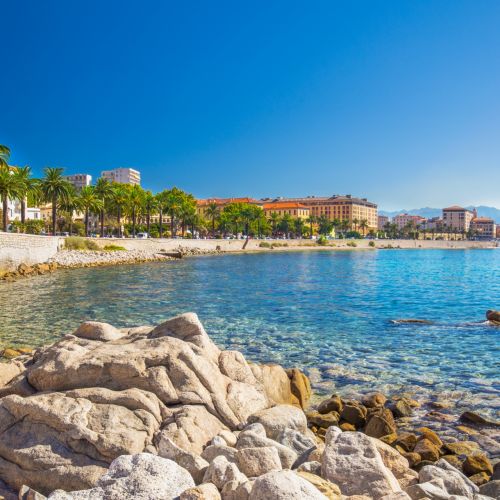 ENHANCE YOUR EXPERIENCE
Upgrade your yacht charter with extras when you book with us.
Restaurant booking
Catering options
Extra staff including private chefs
Jet-ski rendez-vous or any water toys activity
Cultural guided tours
Special celebration onboard
Transport services