Balearic islands yacht charter
From the quiet coves of Menorca to the buzzing beach clubs of Ibiza and the old towns of Mallorca, a yacht charter in the Balearic islands is an unmatched blend of relaxation and pleasure, with plenty of entertainment for the whole family.
8-day tour
Renting a yacht in the Balearics is the best way to explore one of the most dazzling archipelagos of the Mediterranean. Located in Spain, the cruising area is famed for its dramatic rocky coastline, gorgeous white sand beaches and numerous little coves. On land you can expect to find a buzzing atmosphere, stunning Gothic architecture and an unparalleled rustic charm. The many restaurants, bars and nightclubs are complemented by winding medieval streets and beautiful historic buildings. During your Balearics yacht charter explore the islands of Ibiza, Menorca, Mallorca and Formentera which all have a distinct personality. Famous for its lively parties, Ibiza also has a rustic feel with its old town and hillside hamlets. Mallorca, the largest of the islands, offers a pleasant contrast between ubiquitous nature and seaside resorts. Menorca has an authentic wild charm and heavenly landscapes. Finally, Formentera, the little sister, attracts people who love lazy lounging with its dream beaches. Whatever your tastes and requirements, our yacht charter planners will recommend the best itinerary for your Balearics yacht rental.
Suggested itinerary
day
1
Palma - Puerto De Andratx
Join your yacht in Palma for embarkation scheduled at 12:00pm. Settle in on board and head towards Portals Vells, a secluded and peaceful cove located at the southern end of Mallorca. Lunch on board. The afternoon is spent at anchor relaxing on the yacht, swimming and playing with the water sports equipment available on the yacht. You will then set sail for Puerto de Andratx, a charming fishing port with a lively atmosphere. There are some lovely restaurants in Puerto de Andratx so we recommend you take a stroll ashore and experience the local cuisine in a waterfront restaurant. Night in port or at anchor.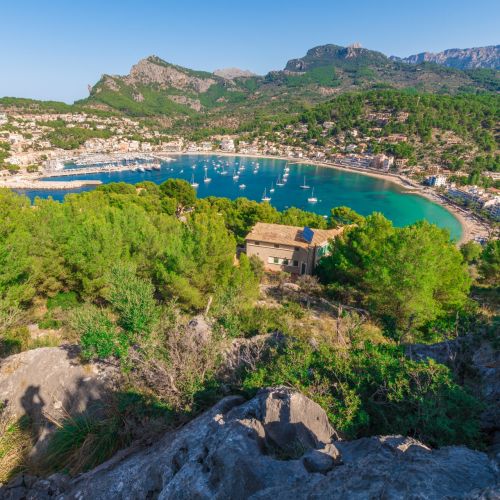 day
2
Puerto De Andratx - Puerto De Soller
After breakfast you will leave and cruise gently up the coast towards Puerto de Soller, a spectacular bay shaped like a horseshoe with a beautiful mountain scenery. Enjoy a refreshing swim, snorkel the clear waters before indulging in your Chef's cuisine. In the afternoon, we suggest you take a trip ashore to visit the old town of Soller or the picturesque village of Valldemosa. The panoramas are absolutely breathtaking and you can immerse yourself in the local life. Upon return to the yacht, you can play with the water toys of your yacht. Dinner on board. Night at anchor.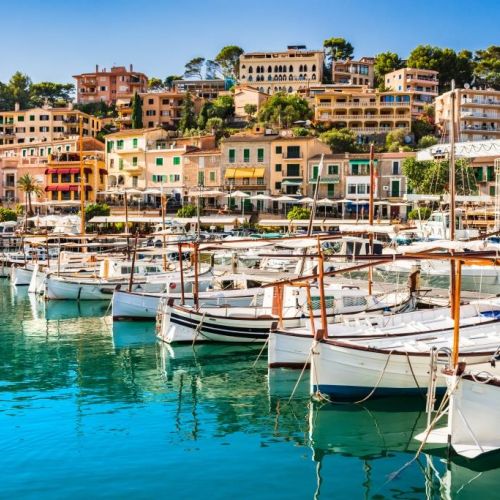 day
3
Puerto De Soller - Cap Formentor
Keep cruising up this amazing coastline passing some absolutely gorgeous bays. You will stop at Sa Calobra, a unique site, in the northwest of the island of Mallorca, crowned a "natural monument" by the Spanish government. The cove is located in a rocky canyon and the setting is jaw-dropping! Enjoy a relaxing time on board, swimming and admiring this utterly beautiful environment. Lunch is taken on board. In the afternoon, head towards Cap Formentor. The yacht will anchor off this dramatic coastline for the night. Dinner on board. Night at anchor.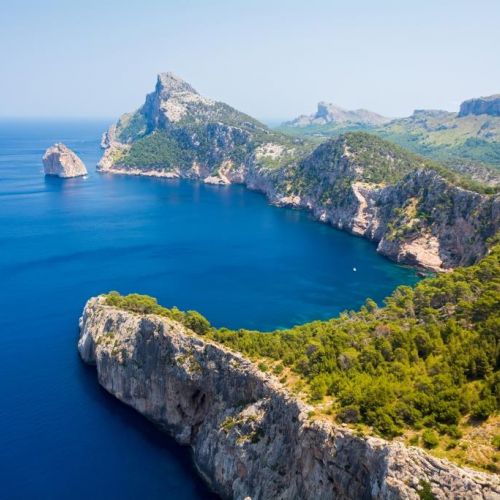 day
4
Cap Formentor - Ciutadella
After breakfast you will do the crossing to the island of Menorca. The rest of your morning is spent at anchor off Cala en Turqueta, one of Menorca's most beautiful beaches. Take advantage of this privileged moment to relax, swim and do some water sports. Enjoy a lunch at anchor before heading to Ciutadella for the rest of your day. Ciutadella is one of the island's prettiest towns. Its historic, labyrinthine old town is definitely worth a visit. Major sights include the 14th century Catalan Gothic cathedral and the Plaça des Born. We suggest you spend the evening ashore and experience a traditional seafood restaurant. Dinner ashore. Night in port or at anchor.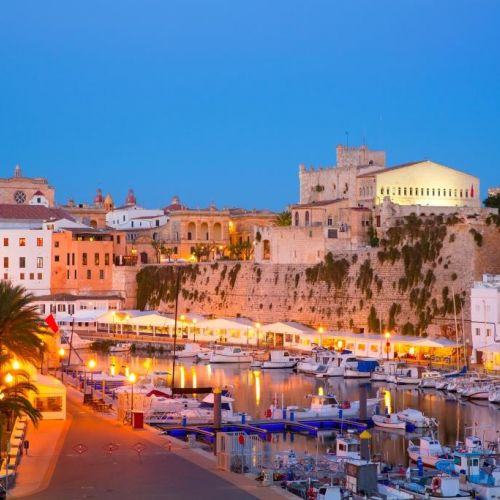 day
5
Ciutadella - Cala Ratjada
After this quick touchdown in Menorca, you will head back to the island of Mallorca. Today is a relaxing day spent at anchor off the resort of Cala Ratjada. Nearby are great beaches and tiny coves. The highly popular beach of Son Moll is the largest and boasts crystal-clear waters. Enjoy a swim, play with the toys of your yacht before savouring a delicious lunch prepared by your Chef. In the afternoon, you can have a promenade walk from the tiny beach of Cala Gat surrounded by cliffs and pines to the rocky cove of Sa Pedruscada which has gorgeous fisherman's cottages. You can also hike up to the lighthouse for fantastic views over the Mediterranean and your yacht! Dinner on board. Night at anchor.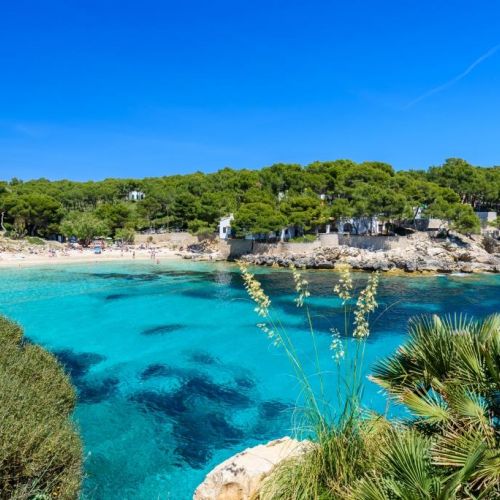 day
6
Calla Ratjada - Calla D'Or
The east cost of Mallorca offers some of the most beautiful beaches in the Balearic Islands. Cala d'Or is one of the most popular places for a beach holiday with its sandy beaches and small coves. It's a family-friendly resort which spreads over 5 different bays all connected by a mini train. The old fishing harbours have turned into modern marinas. Your day is punctuated by swimming, snorkeling, sunbathing and water activities. The waters are amazingly clear, ideal for a dip on a warm day. Lunch is taken ashore in a restaurant so you can see a bit of the area. Dinner on board. Night at anchor.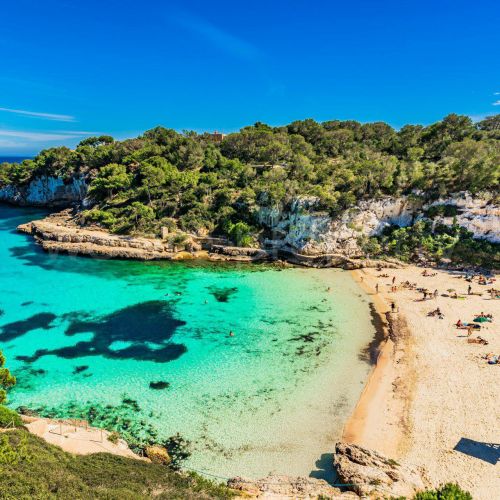 day
7
Calla D'Or - Es Trenc
A yacht charter around the island of Mallorca will not be complete without visiting Es Trenc. Es Trenc is regularly rated as the most beautiful beach in Europe. We are talking about 2km of fine golden sand and crystal-clear waters. It's easy to believe you are in the Caribbean! The beach is bordered by a natural park with sand dunes, salt flats and a lake. The place is relatively well preserved and the landscapes are wild. Lunch and dinner will be prepared by your Chef on board. Unless you want to try lunch in a chiringuito, the local beach bar. Night at anchor.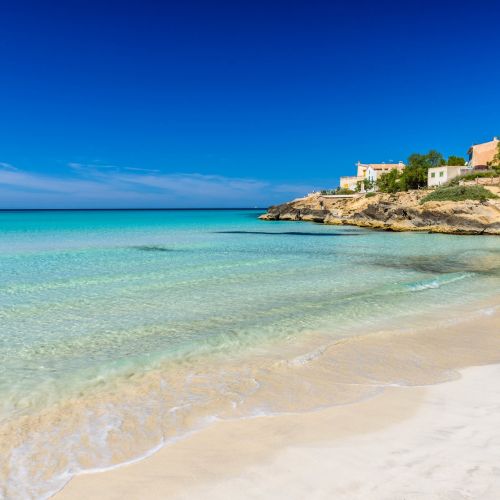 day
8
Es Trenc - Palma
A farewell brunch will be served on board. Cruise back to Palma for disembarkation scheduled at 12:00pm with hopefully some fantastic memories from this yacht charter holiday.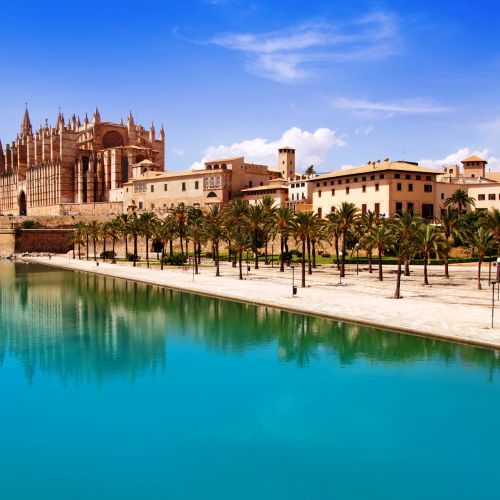 ENHANCE YOUR EXPERIENCE
Upgrade your yacht charter with extras when you book with us.
Restaurant booking
Catering options
Extra staff including private chefs
Jet-ski rendez-vous or any water toys activity
Cultural guided tours
Special celebration onboard
Transport services