Amalfi Coast yacht charter
A land of natural beauty, historic charm and romance, the Amalfi Coast never fails to delight even the most experienced yacht charterers. From sleepy villages to buzzing Capri, an Amalfi Coast yacht rental is one stylish yachting vacation.
8-day tour
The Amalfi Coast is blessed by some of the most beautiful coastal scenery in the world. With its rugged coastline, picture-perfect villages and sparkling blue seas, the Amalfi Coast is the perfect yacht charter destination. This complete 7-day yacht charter tour will allow you to discover the most beautiful corners of the Amalfi Coast. From green Ischia to romantic Positano and vibrant Capri, an Amalfi Coast yacht rental offers the perfect combination of nature, culture and gastronomy. Plus, the region does luxury tourism like nowhere else and you will find lots of designer boutiques, posh restaurants and opulent hotels. Get it touch with our yacht charter specialists to organise your next Amalfi Coast yacht rental.
Suggested itinerary
day
1
Naples - Ischia
Join your yacht in Naples for embarkation scheduled at 12:00pm. Enjoy welcome drinks and settle in on board. The yacht will cruise to the colourful island of Procida and anchor off Coricella, a picturesque bay with fishermen's houses. Have a refreshing swim before the delicious lunch prepared by your Chef. Later in the afternoon you will discover a second anchorage near the beach of Cala del Pozzo Vecchio, ideal for water sports. In the evening, head to the green island of Ischia. Dinner on board. Night at anchor.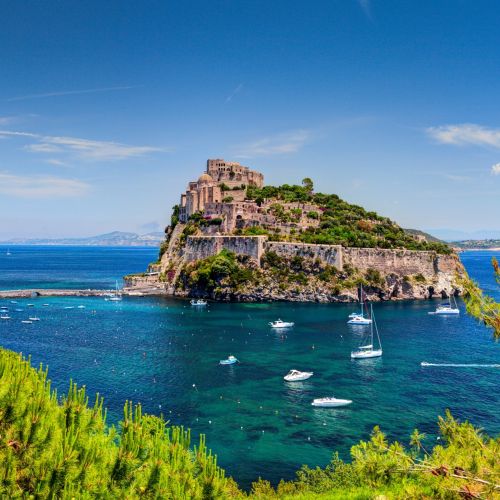 day
2
Ischia - Capri
After breakfast, go ashore to explore the volcanic island known for its rugged beauty. Ischia boasts natural thermal springs which are treasured for their health benefits - spa complexes are a major attraction. Return to the yacht and cruise to the enchanting village of Sant'Angelo for a lunch at anchor. In the afternoon enjoy a relaxation time, swim, snorkel and play with the toys available on board. Arrive in Capri early evening. Dinner ashore on the famous Piazzetta to experience the island's vibrant nightlife. Night in port or at anchor.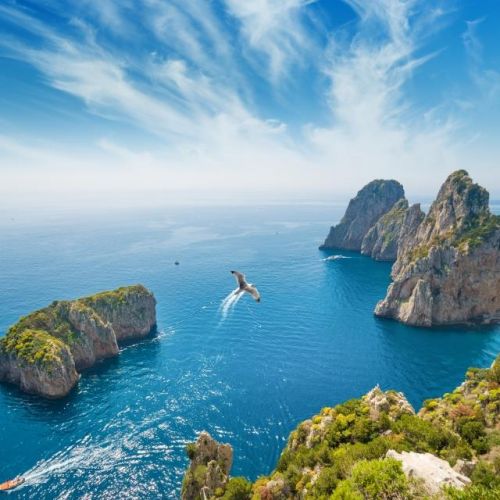 day
3
Capri - Capri
The day is dedicated to exploring Capri, a very popular Mediterranean island known for its beautiful coastline, natural beauty, rustic charm and glamorous atmosphere. In the morning, discover the blue grotto and admire the rock formations of the Faraglioni. Lunch is taken in a beach restaurant. There are numerous coves along the coast where you can stop for a swim. We suggest you spend the afternoon ashore wandering around town, browsing the exclusive boutiques and maybe visiting the Villa Jovis which belonged to Emperor Tiberius. Dinner ashore in one of Capri's exclusive restaurants. Night in port or at anchor.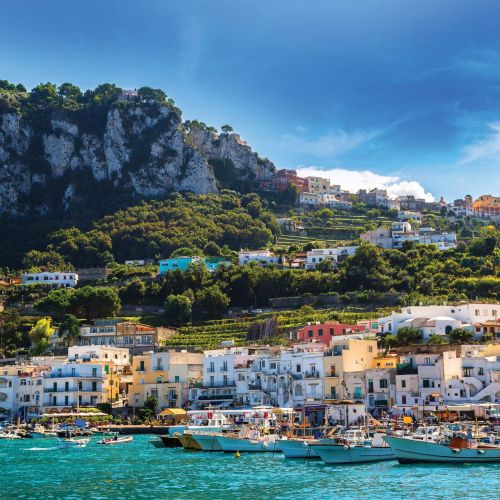 day
4
Capri - Positano
Leave after breakfast for Positano, a picturesque village built around a small bay on a steep hill. The yacht will drop the anchor so you can enjoy some water-based fun. At lunchtime you will go ashore to try the local cuisine in a restaurant. The afternoon is spent at anchor. Positano is very quiet compared to Capri but has lots of charm. In the evening, we suggest you have a drink on the terrace of the hotel Il San Pietro. The place is absolutely magical! Return to the yacht for dinner. Night at anchor.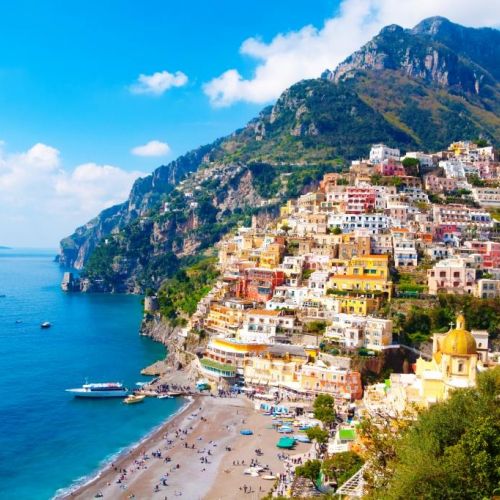 day
5
Positano - Amalfi
Today you will visit Amalfi, probably Italy's most romantic village. Amalfi is a colourful village located in a spectacular bay. Enjoy a day of water-based activities, explore Amalfi or take a taxi to the village of Ravello which boasts spectacular views of the coast and gorgeous villas. If you like to do some shopping, this part of the coast is famous for its pottery. Amalfi has some pretty streets, churches and squares. Both lunch and dinner will be prepared by your Chef on board. Night at anchor.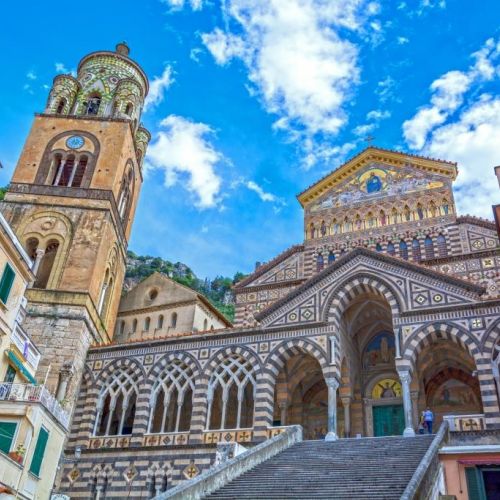 day
6
Amalfi - Sorrento
After breakfast, head to Sorrento. The town is located on a plain above the sea and the views from Sorrento are stunning as they encompass the bay of Naples, the Vesuvius and the island of Ischia. Take a walk around town before savouring lunch on board prepared by your Chef. Enjoy a peaceful afternoon in a secluded bay, relaxing on the deck of your yacht, swimming and snorkeling the clear waters. Dinner on board. Night at anchor.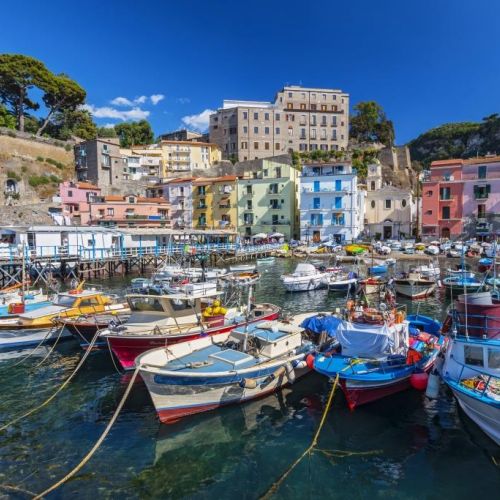 day
7
Sorrento - Pompeii
Enjoy a cruise up along the coast. The program for your day includes an excursion to the historic site of Pompeii which is located at the foot of Mount Vesuvius. Pompeii was covered in lava following a volcanic eruption in 79 AD. The site is one of the most precious archaeological wonders in the world. Lunch will be taken in a restaurant. Return to the yacht in the late afternoon. Enjoy a swim before getting ready for your last dinner on board. Night at anchor.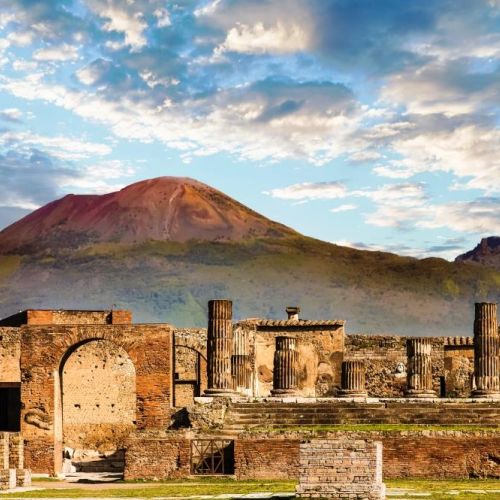 day
8
Pompeii - Naples
On your final day, the yacht will anchor in a beautiful bay so that you can enjoy a last swim. A farewell brunch will be served on board. Cruise back to Naples for disembarkation scheduled at 12:00pm.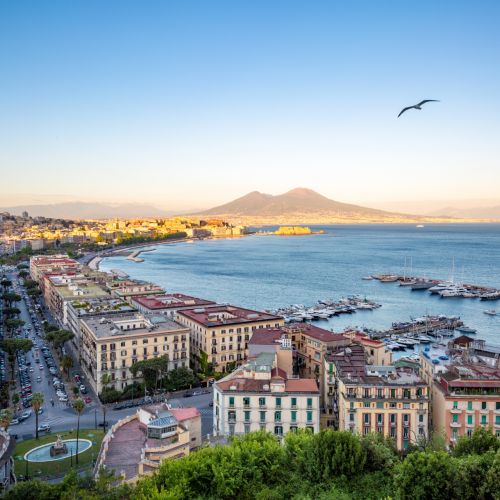 ENHANCE YOUR EXPERIENCE
Upgrade your yacht charter with extras when you book with us.
Restaurant booking
Catering options
Extra staff including private chefs
Jet-ski rendez-vous or any water toys activity
Cultural guided tours
Special celebration onboard
Transport services