Cyclades yacht charter
Steeped in mythology and traditions, offering spectacular seascapes, the iconic archipelago calls for maritime exploration. Make the most of your Cyclades yacht charter with this 7-day cruising itinerary.
8-day tour
The stylish archipelago of the Cyclades is the ultimate summer yacht charter destination and the perfect opportunity for island hopping during your yacht rental. Although almost all islands have gorgeous blue-domed churches and whitewashed houses, each has its very own distinctive identity and charms. This 7-day Cyclades yacht charter itinerary will give you the opportunity to experience radically different islands. Mykonos is famous worldwide for its cosmopolitan lifestyle and vibrant nightlife. Visit Delos fort its cultural heritage and head to Paros for calm and sophistication. One of the most popular islands, Santorini is of breathtaking natural beauty and very romantic. A yacht charter in the Cyclades will give you the opportunity to discover this extraordinary archipelago and live the Greek island dream. Blazing sun, spectacular beaches, crystal-clear waters, historic wonders and charming villages, the Cyclades will capture your imagination and amaze you. Contact our team of charter specialists to start planning your Cyclades yacht rental.
Suggested itinerary
day
1
Athens - Kea
Join your yacht in Athens for embarkation scheduled at 12:00pm. Meet your crew, enjoy some welcome drinks and settle in on board before setting sail towards Kea. The island offers a great variety of landscapes from rocky coves to ruins of historic cities. Upon arrival the yacht will anchor in a secluded cove so you can enjoy the lunch prepared by your Chef. Kea has exceptional beaches and so the rest of the day is spent relaxing, swimming and enjoying water-based activities available on your yacht. Dinner at anchor. Night at anchor.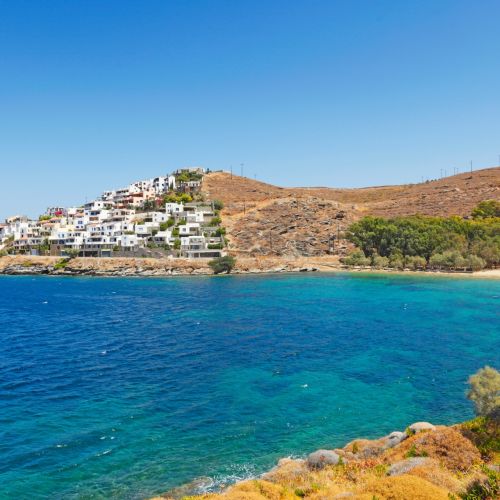 day
2
Kea - Mykonos
After breakfast, leave for Mykonos – one of Greece's most popular islands famous for its stunning beaches, cosmopolitan atmosphere and vibrant nightlife. Spend the morning ashore soaking up the island's vibe. Wander around the narrow streets, admire the whitewashed houses and windmills and visit "Little Venice", a beautiful waterfront with fishermen's houses and charming cafés. Return to the yacht and head to a beach club for lunch. Afternoon in a bay, swim in the clear waters and have a go at one of the many water sports on offer. Spend the evening ashore in Mykonos and dine in one of the island's fabulous restaurants. Night in port or at anchor.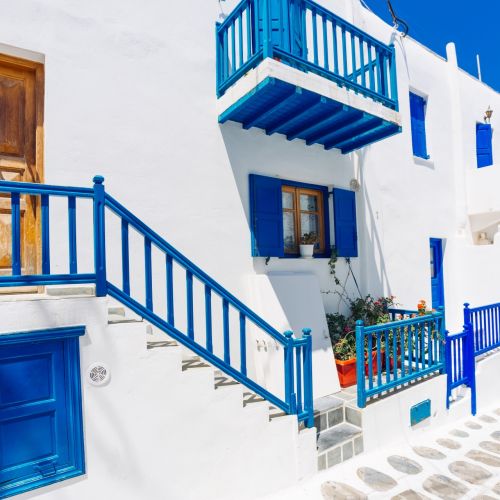 day
3
Mykonos - Paros
Enjoy a morning cruise to Paros. On the way, the yacht will stop so that you can visit Delos, the birthplace of Apollo and Artemis. Delos is an interesting archaeological site with spectacular monuments. Lunch ashore or on board depending on your preferences. Arrive in Paros mid-afternoon. The island offers a beautiful coastline with a number of coves formed in the granite. Enjoy some water-based activities and swimming in the sparkling blue waters before retiring to Naoussa, a lively fishing village. Dinner on board or in a local tavern. Night at anchor.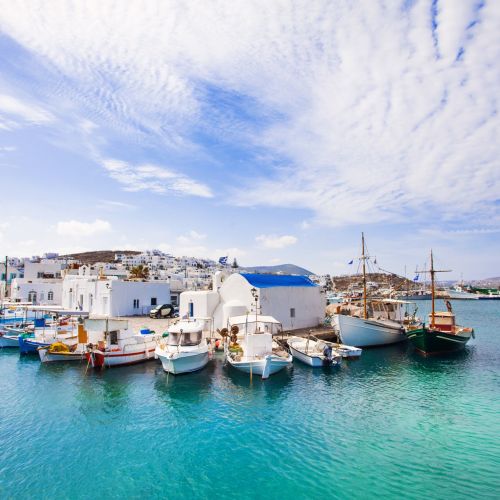 day
4
Paros - Naxos
After breakfast, head to Naxos, the largest island of the Cyclades. The coast boasts many bays where your yacht will anchor so that you can swim and play with the water toys. Lunch on board. In the afternoon, go stretch your legs ashore and visit the magnificent Portara, the entrance of Apollo's temple. The landscapes on Naxos are diverse: plains succeed arid zones, marble mountains lead to deep shaded valleys, whitewashed hamlets are surrounded by lush vegetation and sandy beaches meet blue waters. The architecture on the island is pretty interesting. Return to the yacht for dinner. Night at anchor.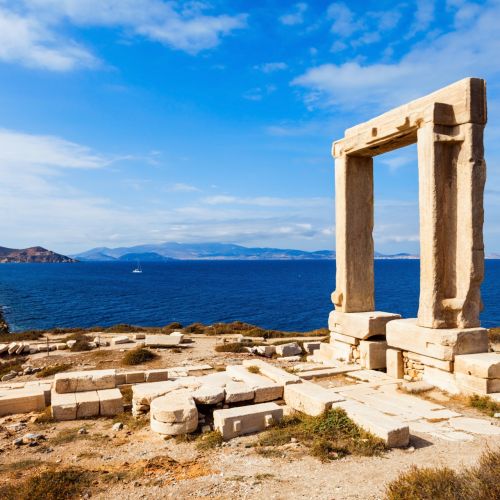 day
5
Naxos - Santorini
Enjoy a scenic cruise to Santorini, the queen of the Cyclades. This volcanic island is of breathtaking beauty. The yacht will cruise along the coast so that you can admire the cliffs, the sea caves and the coves. Anchor off one of the island's beautiful beaches for a morning of relaxation. Lunch ashore in a beach club. We suggest you spend the afternoon ashore exploring the old town. Don't miss the sunset, it is simply magical! Santorini has an abundance of great restaurants so dinner can be taken ashore. Night in port or at anchor.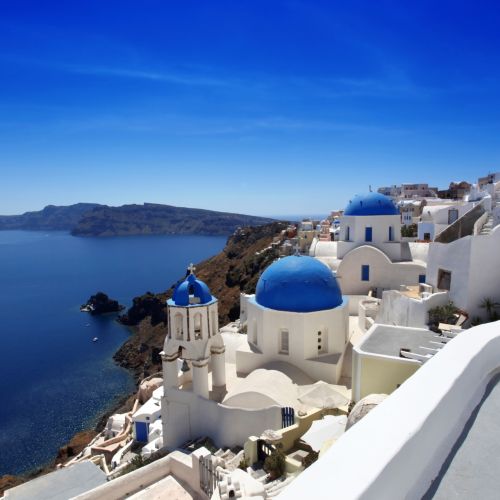 day
6
Santorini - Milos
Following breakfast, your yacht will cruise to Polyaigos. The island is uninhabited and is known for its wild beauty, pristine beaches and turquoise waters. Explore the numerous caves, swim, snorkel or simply relax on your yacht. Enjoy a delicious lunch prepared by your Chef. Keep cruising to reach Milos. You will visit Kleftiko, a stunning anchorage where rocks rise out of the water forming natural caves. Papafragas Bay, the pirates cove, is another beautiful spot. Dinner on board. Night at anchor.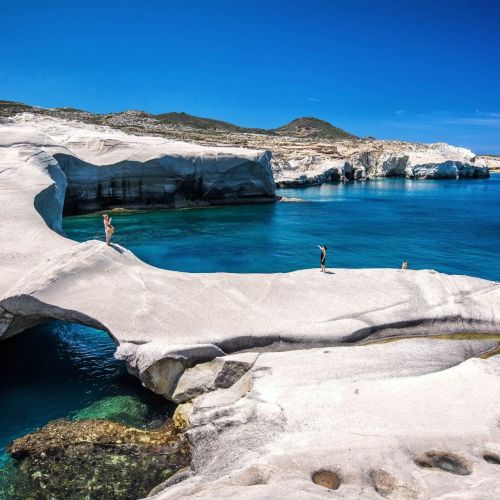 day
7
Milos - Sifnos
Continue your charter adventure towards Sifnos. The island used to be extremely rich with gold and silver mines. Its medieval architecture, acropolis and monasteries are particularly interesting to see. Sifnos is a highly popular tourist destination and we recommend you spend the day ashore exploring the surroundings. The local cuisine is excellent and you can enjoy lunch in an authentic tavern. For those who like to buy souvenirs, the island is famous for its pottery and basket weaving. Return to the yacht later in the day to enjoy a refreshing swim in a bay. Dinner on board. Night at anchor.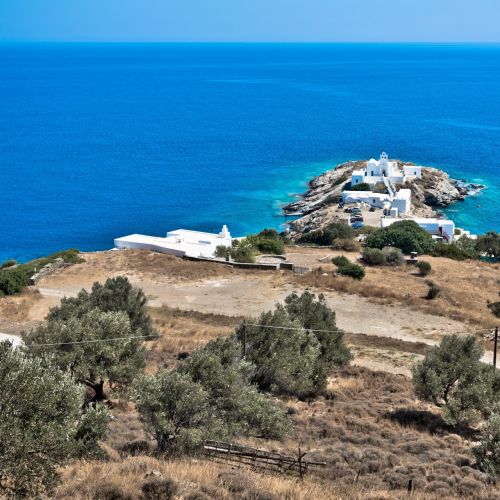 day
8
Sifnos - Athens
Wake up in a beautiful anchorage for a last morning dip. A farewell brunch will be served on board. Cruise back to Athens for disembarkation scheduled at 12:00pm.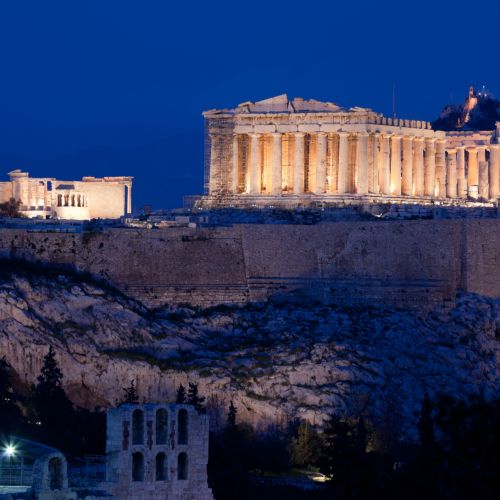 ENHANCE YOUR EXPERIENCE
Upgrade your yacht charter with extras when you book with us.
Restaurant booking
Catering options
Extra staff including private chefs
Jet-ski rendez-vous or any water toys activity
Cultural guided tours
Special celebration onboard
Transport services