GREECE YACHT CHARTER IN THE CYCLADES
Explore the Cyclades on your Greece yacht charter, the best destination for island hopping in the Eastern Mediterranean.
Destinations
The Cyclades archipelago includes about 200 islands and is the most popular cruising area in Greece. Admire the views of ridiculously picturesque villages with splashes of bright blue, adorable houses perched in the hills, windmills… No matter where your luxury yacht drops anchor in the Cyclades islands, all you can expect is crystal-clear waters, breathtaking scenery and eternally blue skies. And there are so many secluded coves that you don't have to be lucky to find your own private one. A Greece yacht charter in the Cyclades offers something for everyone and our charter planners will recommend the best sailing itinerary for you and your guests. The islands are pretty close to each other enabling you to be relaxed on your yacht rental vacation and enjoy island hopping from glamorous Mykonos to beautiful Santorini.
Experiences
CRUISE! DISCOVER, TASTE, VISIT & ENJOY
At Talamare, we believe that experience can turn a special yacht charter into an extra special one. Take a look at the few examples below and contact our charter planners for details and recommendations.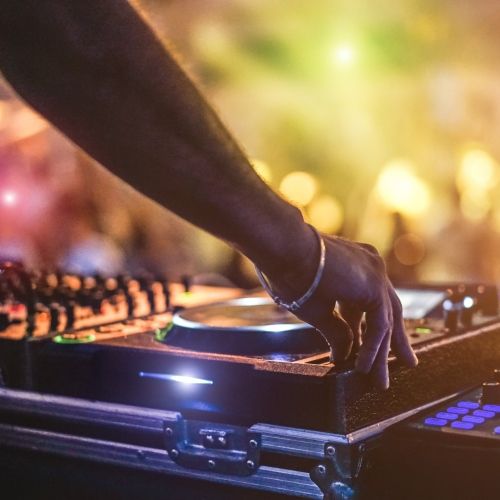 Mykonos summer parties
Famous Mykonos didn't gain its insane fame from the early birds, so make the most of your time in Mykonos and spend a crazy night. Great places to party include Nammos, Scorpios, Paradise beach, Cavo Paradiso…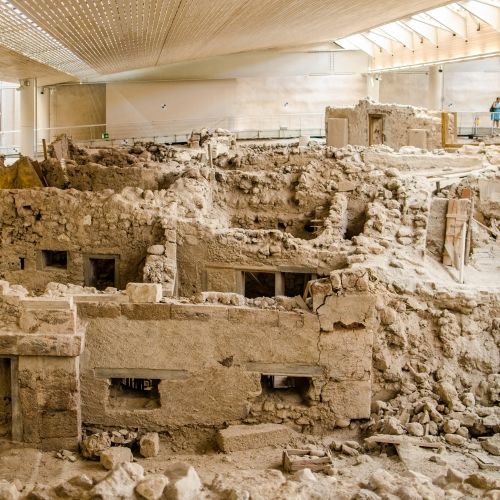 Explore legendary Atlantis
Akrotiri is a small version of Pompeii – an ancient Minoan city completely covered by crawling lava following a volcanic eruption. Some scientists think Akrotiri could in fact be the lost city of Atlantis.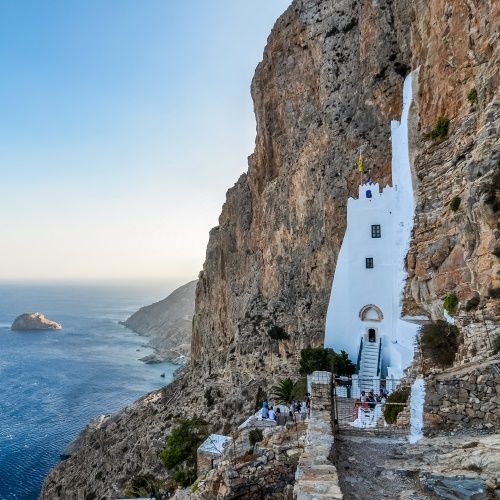 Discover Amorgos
A tiny beautiful island, the most easterly of the Cyclades and a great authenticity. This is the island where the movie 'The Big Blue' by Luc Besson was shot. There is not much on the island but it's a paradise if you want to experience the true Greek feel during your yacht charter in the Cyclades.
Our favourite spots
Andros
The island of Andros offers the best combination of the blend between East and West, Ottoman and Venetian cultures, turquoise waters and the land. You won't find any fancy restaurant or designer shop on Andros but some beautiful neoclassical houses of wealthy shipping dynasties.
Dolly's
Restaurant
Located in a boutique hotel, this restaurant serves sophisticated food in a nice setting. Service is great. Probably the best on the island if you fancy a sophisticated meal.
Micra Anglia Boutique Hotel - 13 M. I. Goulandri - Andros Town 84500 - +30 2282 022207
More information
MOCA
Curiosity
In Chora, visit the Museum of Contemporary Art by the Goulandris Foundation to admire some artworks by Picasso, Giacometti, Matisse or Rodin.

Kea
Kea is an island with a bustling resort feel and beautiful villas. The architecture is not the best of the Cyclades but there are some lovely beaches around. Kea has also some mountains and lush valleys with a few farms.
Porto Koundouros
Restaurant
Our favourite beach restaurant on the island. Traditional Greek food is great, welcoming atmosphere and family-friendly. We recommend the souvlaki dish.
Porto Koundouros - Kea 840 02 - +30 2288 031111
Milos
The volcanic island of Milos has unique geological formations and beautiful beaches with azure waters. Make sure your Captain drops the anchor near the beach of Kleftiko, an old pirate hide-out only accessible by boat.
Navagio
Restaurant
The best restaurant on Milos. Food is great especially the seafood and there are nice views.
Navagio - Adamas 848 01 - +30 2287 024124
Roman catacombs
Curiosity
The catacombs were a gathering place for the first Christians. It was the place of worship and a place where to bury the dead. Milos catacombs are among the most remarkable in the world, along with those of Rome.

Mykonos
The most famous island of the Cyclades epitomizes the perfect Greek island: crystal seas, beautiful beaches, blue domed churches, windmills, picturesque villages and tiny harbours… Mykonos is known world-wide for its cosmopolitan lifestyle, glitz and glamour as well as its terrific nightlife.
M-eating
Restaurant
This restaurant overlooking a busy street is one of our favourites in Mykonos. Service is top-notch and the food is just fantastic and well presented. A must-try if you stop in Mykonos on your yacht charter.
M-eating - 10 Kalogera - Mykonos Town 846 00 - +30 2289 078550
Kalita
Restaurant
At Kalita you will enjoy great food in a lovely garden setting. Nice atmosphere, attentive service, fabulous dishes. Consistent and of high level, Kalita never disappoints.
Kalita - 31 Kalogera - Mykonos Town 846 00 - +30 2289 027102
Bill&Coo
Restaurant
If you're looking for a dinner on a beautiful terrace with views over the sea, this is the place to go. Located in a hotel, this restaurant offers one of the best gastronomy experiences in town.
Bill&Coo - Megali Ammos – Mykonos Town 846 00 - +30 2289 026292
Katrin
Restaurant
One of the most popular restaurants in Mykonos. Very cosy setting in the old town of Mykonos. Food is not of constant quality from one year to the other as is the service. A bit pricey for what you get but the atmosphere is great.
Katrin - 1 Nikiou - Mykonos 846 00 - +30 2289 022169
Scorpios
Restaurant
A great beach club in Mykonos with a party atmosphere. The setting, the music, the food, the drinks, everything is great and we love it!
Scorpios - Paraga 84600 - +30 2289 029250
More information
Naxos
The largest island of the Cyclades, Naxos is quite unique as agriculture is its main industry way before tourism. It's very likely you will see goats, sheep and cattle everywhere.
Apollo temple
Curiosity
It is the symbol of Naxos, the most famous and photographed monument of the Cyclades: the entrance (portara) of the temple of Apollo, composed of four blocks of marble, each weighing 20 tons. This is all that remains of the temple dedicated to Apollo built around 530 BC.

Paros & Antiparos
These two islands make for a tiny holiday paradise. Antiparos is quite low key but has a stunning coastline where golden beaches alternate with pebbly coves. Paros is a lot mot busy but has a unique charm with its traditional villages, white-washed houses, winding tiny streets and beautiful waters.
Levantis
Restaurant
The best restaurant in Paros. The atmosphere and location are great! Food is delicious and service is welcoming.
Levantis - Market Street - Parikia 844 00 - +30 2284 023613
Naoussa
Curiosity
A lovely fishing harbour located on Paros which has to be the most photographed village in Greece. It boasts a maze of narrow streets, tiny bridge, flowery balconies and some authentic tavernas.

Panaghia Katapoliani
Curiosity
The Church with the Hundred Doors is one of the best preserved Christian monuments in Greece and a gem of sacred art.

Santorini
Santorini, with its mysterious history fascinates the visitors, who remain speechless in front of such beauty. Its mythical history and irresistible villages will take your breath away. Without doubt the most beautiful of all the Greek islands but probably also the most touristy.
Kapari
Restaurant
A restaurant with views to die for, perfect at sunset! Food is heavenly tasty and service is very welcoming. A great alternative is The Athenian House or La Maison.
Kapari - Imerovigli 847 00 - +30 2286 021120
Sea Side by Notos
Restaurant
Our best address for a lunch on the beach. Delicious food with great music. We love the black ink squid risotto.
Sea Side by Notos - Agios Georgios Beach – Perivolos - +30 2286 082801
Catch Bar
Restaurant
This restaurant serves a modern Greek cuisine in a beautiful setting. Top-notch service, music and atmosphere. Highly recommended.
Catch Bar - Konstantinou Paleologlou - Oia 847 02 - +30 2286 072063
More information
Ilias Lalaounis
Shopping
If you're looking to buy jewellery, pop into the boutique of the late Greek designer where you will find some incredible gold pieces.

Sifnos
Sifnos, long popular with Athenians, is becoming quite touristy as it combines charm, gastronomy and folk tradition. Sifnos is known for its chic style, while being a bit low key, without excess, a mecca for the bohemians and the perfect place if you want to sit back and enjoy life at a slow pace.
Omega3
Restaurant
Our favourite restaurant in Sifnos. Great surprise in terms of food as there is not much options on Sifnos. Beautiful waterfront setting.
Omega3 - Platis Gialos 84003 - +30 2284 072014
Colores
Shopping
If you fancy some shopping and you like chic kaftans. This is the place to go!
Colores - Appolonia Sifnos
Syros
Syros is the capital of the Cyclades. Hence a particular interest in preserving the culture and traditions: music, gastronomy, dancing… Stroll along 'Little Venice' near Asteria to admire the beautiful palaces.
Mazi
Restaurant
Our favourite restaurant on Syros. The garden setting is just fabulous and the Chef prepares a delicious modern Greek cuisine. Relaxed atmosphere, great service. Try the mazi cocktail.
Mazi - 2 Leotsakou - Hermoupolis 841 00 - +30 2281 088811
Apollo theatre
Curiosity
The historical theatre of Apollo is one of Syros' major attractions. Built in 1864 by the Italian architect Pietro Sampo, the building was inspired by La Scala in Milan. The theatre of Apollo has been the heart of the capital ever since.

Agios Nikolaos
Curiosity
This spectacular church has a beautiful marble bell tower, a monumental marble staircase and some splendid sculpted decorations. Don't miss the unique iconostasis. A must-see if you stop in Syros.

Metamorphosis
Curiosity
This Orthodox Church is famous for hosting a masterpiece by El Greco.

Tinos
Tinos is associated above all with the spectacular pilgrimage that takes place there every August 15. Tinos is the typical Cyclade, preserved from unbridled tourism: arid mountains and rocky peaks, lush valleys, large sandy beaches, crystalline waters…
To Thalassaki
Restaurant
Considered as one of the best fish restaurants in the Cyclades. Very low key waterfront restaurant but worth a visit.
To Thalassaki - Ormos Isternion 842 01 - +30 2283 031366
Dovecotes
Curiosity
Tinos has over 800 beautiful Venetian dovecotes with different motifs. Greek families love having their own birdhouse as the dove represents peace. The artisans of Tinos have a particular eye for details.

Suggested tours and itineraries
view all