TURKEY YACHT CHARTER
Embark on your Turkey yacht charter, the land where East meets West, where history blends with modernity and where natural wonders amaze.
Destinations
A yacht charter is the best way to explore the dramatic coastline of Turkey. The coast boasts a number of beautiful sheltered bays, perfect for an afternoon at anchor, some snorkelling and water sports. With its rocky landscapes, medieval towns and the genuine hospitality of the Turkish people, no doubt you will enjoy your adventure in Turkish blue waters. The southern part of the country has lots to offer: from picturesque seaside towns to fine dining restaurants, lavish hotels and oriental bazaars. A Turkey yacht charter usually includes Bodrum, Marmaris, Gocek and Fethiye. However, you can also cruise the Bosphorus and reach Istanbul. A yacht rental in Turkey can be combined with nearby Greek islands of Kos, Simi or Rhodes. Talk to our team to discuss yachts options. We offer different types of boats including luxury motor yacht, gulet and sailing yacht.
Experiences
CRUISE! DISCOVER, TASTE, VISIT & ENJOY
At Talamare, we believe that experience can turn a special yacht charter into an extra special one. Take a look at the few examples below and contact our charter planners for details and recommendations.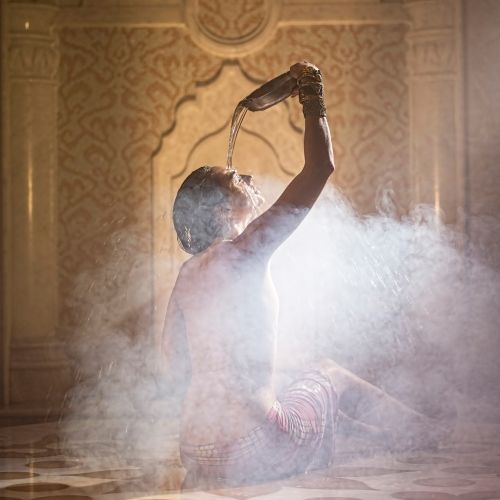 Indulge in a traditional hammam
If you're looking for a relaxing time, step into a Turkish bath and revitalize your body during your yacht charter holiday in Turkey.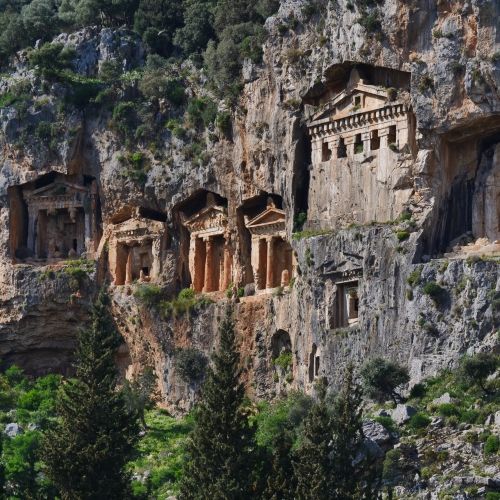 Take a trip to ancient Caunus
Embark on a wooden boat and cruise up the Dalyan River to discover the Lycian rock tombs and the ancient ruins of Caunus.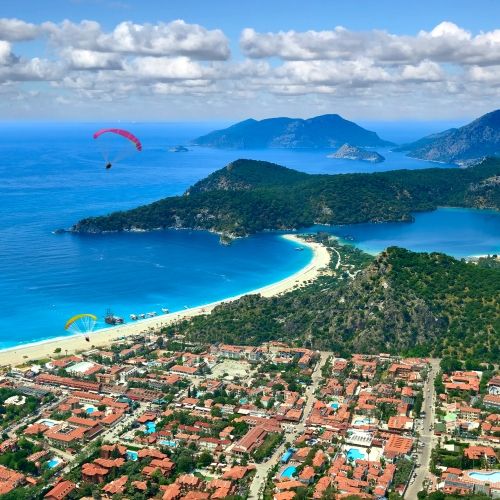 For thrill-seekers
Enjoy a paragliding adventure down the Babadag. Incredible views over the Mediterranean and sometimes all the way to the Greek island of Rhodes. The trip is a bit long but it's worth it.
Our favourite spots
Bodrum
The lively seaside town of Bodrum is a great stop during your yacht charter in Southern Turkey. The city boasts stunning panoramas and has some interesting ancient ruins. One of the main attractions is the magnificent castle overlooking the sea.
Su Restaurant
Restaurant
This waterfront restaurant has beautiful views over the castle. Great Mediterranean food, attentive service. Great selection of mezze.
Su Restaurant - Kumbahce, Pasatarlasi Str. 29 - Bodrum 48400 - +90 532 120 45 18
Castle of St Peter
Curiosity
The impressive medieval castle of Bodrum is home to an interesting museum where you can learn about underwater archaeology.

Fethiye
Fethiye captivates every visitor by its charming old town and natural scenery. The city is home to famous rock tombs and the remains of an ancient theatre.
Unique
Restaurant
Located in a hotel this restaurant has a lovely terrace overlooking the bay and serves delicious food. A beautiful little find. The mezze platter is particularly good.
Hotel Unique – 1 Karagozler Mah. Fevzi Cakmak Cad. - Fethiye 48300 - +90 252 612 11 45
Pashal
Restaurant
A 5-stars hotel with a great restaurant called Pashal and an enchanting spa.
Hillside Beach Club - Belen Cad. 132 Kalemya Koyu - 48300 Fethiye/Muğla - +90 252 614 83 60
More information
Gocek
With its hidden coves and beautiful turquoise waters, Gocek has always been a popular yachting spot. The town has some great entertainment and the natural surroundings are lovely to explore.
Daidala
Restaurant
Beautiful surroundings, great atmosphere, delicious food, attentive service. A must-try if you're around. We love the octopus carpaccio!
Daidala - Göcek Mah. Sahil yolu cd. – Gocek - +90 252 645 32 00
More information
Cleopatra's bay
Curiosity
A wide bay surrounded by pine trees with some ruins caused by earthquakes. According to the legend, as Cleopatra approached the Turkish coast, some of her relatives decided to build Roman baths for her as a gift. It is said that the secret to her beauty can be found in the waters of the bay.

Suggested tours and itineraries
view all
Selection of yachts available in TURKEY
view all