Turkey yacht charter
Marvel at the breathtaking landscapes and fascinating historical sights during your yacht charter in Turkey - clearly the ultimate way to explore the stunning Turkish coastline that spreads over three different seas.
8-day tour
The Turkish Riviera is still quite underrated but offers a spectacular coastline ideal for yachting exploration. This is Turkey at its best: azure waters border sandy miles of shore backed by verdant hills and a peaceful atmosphere envelops the coastal villages. Although tourism is picking up, there are still a number of unspoilt areas along the coast and a yacht rental in Turkey is the perfect way to enjoy a relaxing holiday. Step ashore and you will find the most beautiful ancient sites, an unparalleled hospitality and a savouring cuisine. This 7-day Turkey yacht charter itinerary will give you the opportunity to cruise the calm waters of the Turkish Riviera and discover seaside resorts, islands as well as archaeological and natural wonders. Contact our team of specialists to start planning your yacht charter in Turkey and explore this little-known idyllic corner of the Mediterranean.
Suggested itinerary
day
1
Bodrum - Bodrum
Join your yacht in Bodrum for embarkation scheduled at 12:00pm. Meet your crew, enjoy some welcome drinks and settle in on board. Head to an anchorage just off Bodrum where you will be able to swim and play with the water toys. Lunch at anchor. In the afternoon, you can decide to stay at anchor or to explore Bodrum, a lively seaside resort often referred to as the "St Tropez of Turkey". Wander around the streets, maybe do some shopping and visit the castle of St. Peter which dominates the harbour. Evening and dinner ashore as Bodrum offers some very nice restaurants. Night in port or at anchor.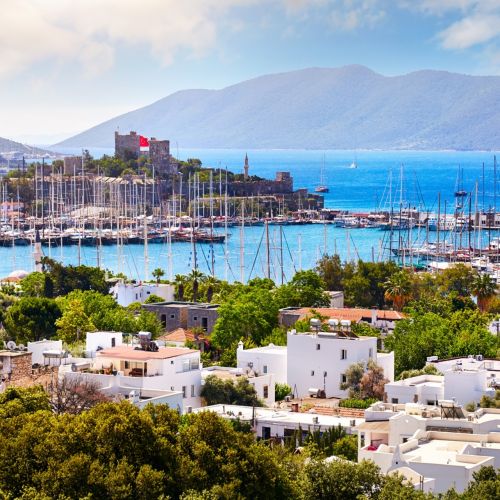 day
2
Bodrum - Knidos
After breakfast, cruise across the Gulf of Gökova towards Knidos located at the extremity of the Dorian Promontory where the Mediterranean and the Aegean seas meet. You will stop at Mersincik Adasi to enjoy a morning of relaxation and water-based activities. Lunch at anchor. Keep cruising to reach Knidos, a small hamlet with a picturesque harbour and a rich history. In the afternoon, we suggest you go ashore and explore the ruins of temples, amphitheatres as well as the ancient harbour and the Aphrodite temple. Return to the yacht for dinner. Night at anchor.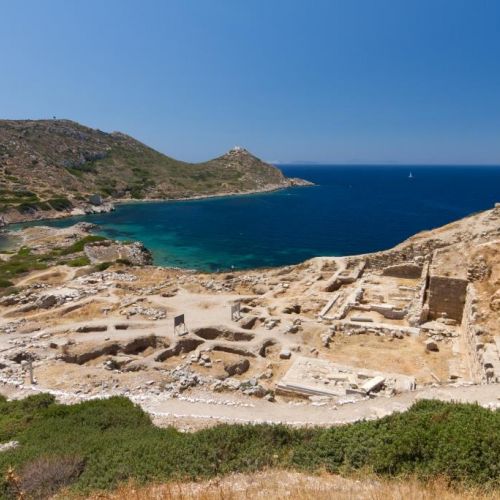 day
3
Knidos - Keci Buku
Morning sail to Datça, a resort town with some beautiful beaches. Spend the morning ashore exploring this small but lively town with some good shopping and particularly good Turkish carpet shops. Lunch is taken ashore in a local restaurant. In the afternoon, cruise to Keci Buku, an idyllic anchorage with a stunning scenery: mountains covered with pine trees and an island with some Byzantine fortress. The perfect place for an afternoon of water-based fun! Dinner on board. Night at anchor.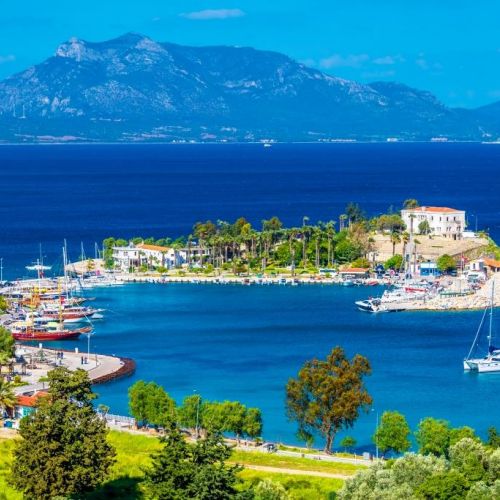 day
4
Keci Buku - Marmaris
Early morning cruise so you can wake up in Kumlubuk Bay for a refreshing swim. Proceed along the coast to reach Marmaris. The day is spent ashore exploring this famous bustling seaside town built around a large natural bay at the foot of a steep mountainside covered with pine trees. Marmaris is a blend of ancient and modern and has some of the best bazaar shopping as well as excellent restaurants. Lunch is taken ashore to sample the local cuisine. Dinner will be prepared by your Chef on the yacht. Night in port or at anchor.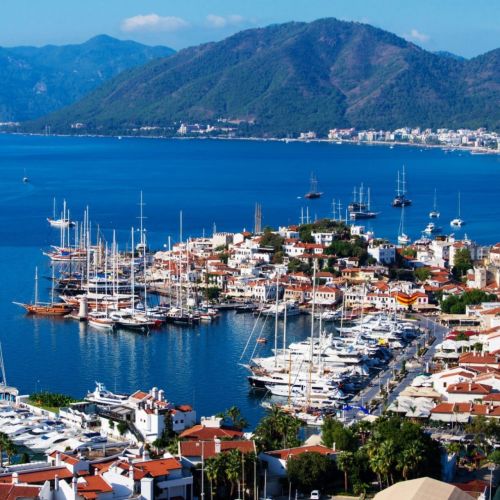 day
5
Marmaris - Ekincik
Morning cruise to reach Ekincik. The program of the day is a little special as your Captain will have organized the rental of a local boat so you can cruise up the Dalyan river. Your Chef will prepare a picnic lunch for your excursion. The scenery is absolutely gorgeous with a great diversity of fauna and flora - you may see turtles. The boat will cruise up to the ancient site of Caunos where you can admire the remarkable Lycian tombs carved into the cliffs and dating back to the 4th century BC. Upon your return, the boat will anchor off the beach of Iztuzu which is a nice spot to enjoy a late afternoon swim. Dinner at anchor. Night at anchor.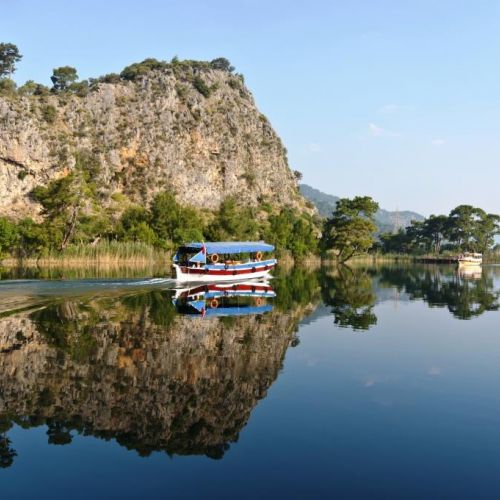 day
6
Ekincik - Oludeniz
Today is a day of relaxation and water-based activities. The yacht will cruise to the dramatic bay of Ölüdeniz and drop anchor off one the beautiful white sand beaches. Ölüdeniz is famous for its blue lagoon which lies at the extreme tip of the beach and is ideal for swimming. During the day, you will see many paragliders flying from the Babadag mountain and the bravest will be able to try the experience! Both lunch and dinner are taken on board. Night is spent at anchor.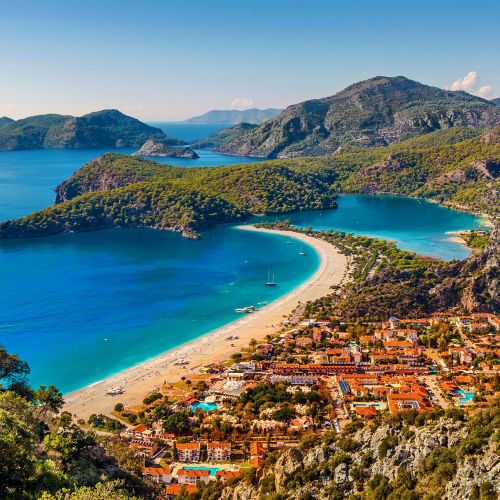 day
7
Oludeniz - Fethiye
In the morning the yacht will anchor of the island of Gemiler Adasi which is a popular spot for swimming and water-based activities. The island has also some interesting Byzantine ruins if you wish to stretch your legs ashore. Lunch at anchor. Cruise across the Gulf of Fethiye to reach the historic town. Spend the afternoon ashore. Must-sees include the 15th century fortress built by the Knights of St John, the Lycian tombs and the Roman theatre. For dinner, we suggest you visit the market where you can buy local fish and have it cooked in a nearby restaurant. Night in port or at anchor.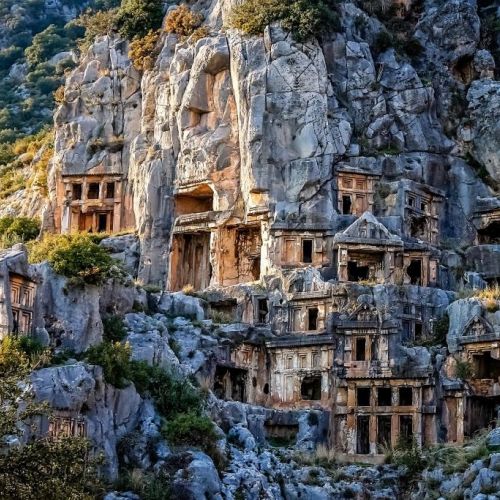 day
8
Fethiye - Göcek
Enjoy a last morning swim in a secluded bay such as Fethiye Korfezi. A farewell brunch will be served on board. Cruise to Göcek for disembarkation scheduled at 12:00pm.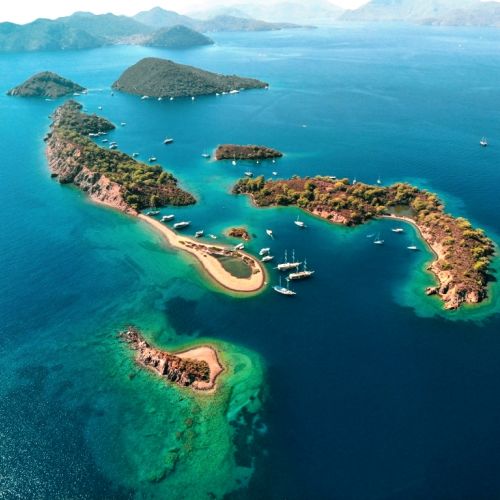 Selection of yachts available for this tour
view all
ENHANCE YOUR EXPERIENCE
Upgrade your yacht charter with extras when you book with us.
Restaurant booking
Catering options
Extra staff including private chefs
Jet-ski rendez-vous or any water toys activity
Cultural guided tours
Special celebration onboard
Transport services