GREECE YACHT CHARTER DODECANESE
For a unique blend of cultures, stunning scenery and great food, book a Greece yacht charter in the Dodecanese.
Destinations
Located in the Aegean sea, the 12 islands of the Dodecanese archipelago form a bridge between Europe and the Orient. Many cultures have shaped their history over the centuries: Ionians, Romans, Byzantines, Venetians, Ottomans and Italians. Each island has its own unique character, and they all offer a multitude of possibilities for relaxation, tourism, adventure and gastronomic pleasures on a Greece yacht charter. Some are extremely popular and world-renowned, others have the charm of the unexplored. In the Dodecanese islands, you will find it difficult to make your choice among the infinite number of beautiful beaches. Each one is different in its own way. Charterers seeking a more active yacht charter in the Dodecanese can enjoy scuba diving, windsurfing and all kinds of water sports. If you're looking for something more relaxing and intimate, you can sunbathe, swim and relax in secluded coves all of your own. The prettiest and most preserved islands can be found when your yacht ventures inside the archipelago. Experience a fantastic luxury yachting vacation in Greece with a little help from Talamare.
Experiences
CRUISE! DISCOVER, TASTE, VISIT & ENJOY
At Talamare, we believe that experience can turn a special yacht charter into an extra special one. Take a look at the few examples below and contact our charter planners for details and recommendations.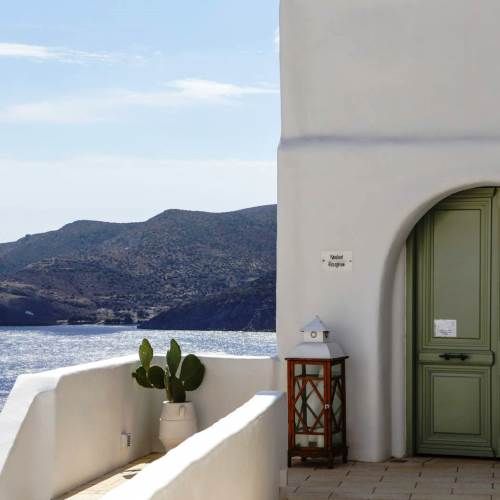 Extraordinary view and unique flavors
Pylaia is our favourite spot in all Dodecanese. Located on the island of Astypalea, this very elegant boutique hotel has a restaurant which serves delicious Mediterranean food. A must-stop if the island is on your yacht charter itinerary.

Photo credit: Pylaia Boutique Hotel & Spa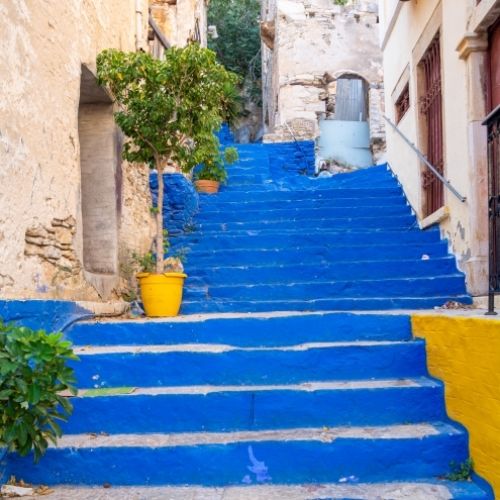 Climb 500 marble steps
If your yacht charter in the Dodecanese takes you to Symi, make sure you climb the 500 stairs to get from Gialos to Horio. A bit sporty but the panorama is worth it!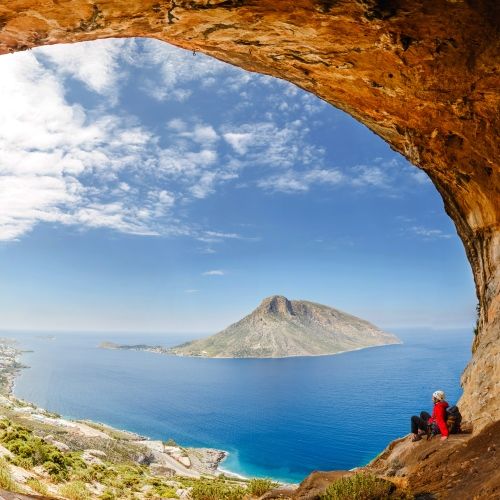 For thrill-seekers
The island of Kalymnos is a mecca for all climbers over the world. With its impressive vertical cliffs, it is a paradise for hiking and rock climbing.
Our favourite spots
Kos
Kos offers stunning landscapes, interesting historic sites and lovely beaches, all in a lively and relaxed atmosphere. Do not miss the beautiful bay of Kefalos, bordered by beautiful sandy beaches. The city has a great selection of hotels, restaurants and nightclubs.
Neratzia Castle
Curiosity
The castle of Neratzia dominates the entrance of Kos. It is reachable via a 33-metre high stone bridge. Away from the hustle and bustle of this bustling little town, the fortress boasts superb views.

Barbouni
Restaurant
A rather sophisticated setting for Kos and refined cuisine. Beautiful sea view.

Sardelles
Restaurant
A charming little tavern where you can enjoy traditional local cuisine.
Sardelles - Georgiou Averof 19 - Kos Town 853 00 - +30 2242 026099
Nisyros
Nisyros is an active volcanic island. Its dramatic landscapes are best viewed from the deck of your yacht but the capital has interesting churches and monasteries.
Soumada
Curiosity
If you go ashore, try the traditional drink of Nisyros.

Patmos
Patmos is a mystical island. It's the place where John the Evangelist was inspired the Book of Revelation. The island has some great hotels and lovely streets.
Cave of the Apocalypse
Curiosity
The sacred candlelight cave where John had a revelation. It is an important place of pilgrimage for Orthodox Christians.

Benetos
Restaurant
Lovely restaurant with a romantic garden area. Great food.
Benetos Restaurant - Sapsila, Patmos - +30 2247 033089
Rhodes
Rhodes is probably the most well-known island of the Dodecanese. The medieval city, whose old town is a UNESCO World Heritage, is a must-stop on any Dodecanese yacht charter. Rhodes was home to one of the Seven Wonders of the Ancient World, the Colossus of Rhodes, which was destroyed by an earthquake in 226 BC.
The Acropolis
Curiosity
The ancient Acropolis of Rhodes dominates the whole city. There is an impressive reconstruction of the 210-metre-long stadium, the theatre that could accommodate 800 spectators and temples dedicated to Zeus and Athena.

Paláti Megálou Magístrou
Curiosity
The palace of the great masters in Rhodes, is an impressive fortress built in the 14th century on the site of an ancient temple dedicated to Helios, god of the sun. This palace, surrounded by walls, also served as a shelter for the population in case of danger.

Marco Polo Café
Curiosity
A lovely restaurant located in a small alley with great dishes. We love the terrace.
Marco Polo Café - 42 Ag. Fanuriu street – Rhodes 85100 - +30 2241 025562
Mavrikos
Restaurant
A great restaurant in Lindos with a very nice Mediterranean and Greek menu. Slightly more sophisticated than traditional tavernas. An alternative in Lindos is Broccolino.
Mavrikos - Lindos 851 07 - +30 2244 031232
Symi
Built around the impressive harbour of Gialos, the picturesque village of Symi is made up of pastel-coloured neo-classical houses. A real treat for the eyes!
Monastery of the Archangel Michael Panormitis
Curiosity
The monastery dedicated to Saint Michael, patron saint of the island, is nestled in a beautiful cove. Inside, magnificent wood panelling, frescoes and sublime icons including that of the archangel.

Haritomeni Taverna
Restaurant
This traditional taverna has the best view over Gialos – magnificient at sundown. Great local food and service.
Haritomeni Taverna – Pitini 856 00 - +30 2246 072771
Tilos
The island of Tilos has a wide variety of wild flowers and exceptional biodiversity.
Agios Panteleimon Monastery
Curiosity
The 15th century monastery of Agios Panteleimon is abandoned, but deserves a visit, as it is very beautiful and you can see some interesting icons.