CROATIA YACHT CHARTER
Stunning natural beauty and fascinating history make Croatia an increasingly popular yacht charter destination.
Destinations
Whether you are looking for some medieval touch or modern luxury, intimate bays or a glitzing nightlife, Croatia has it all! The Croatian coastline is a wonderful place to vacation and certainly a fantastic destination for a yacht charter as the area boasts beautiful beaches, amazing architecture and sensational restaurants. North of Split, the archipelago is a real jewel of the pristine beauty of nature, mostly uninhabited and with the cleanest waters in the Mediterranean. The islands between Split and Dubrovnik are the most popular amongst boat charterers with scenic medieval towns and incredible azure waters. On land, you can enjoy some very good restaurants and explore Croatia's captivating cultural heritage that stretches back to the Ottoman Empire and the Romans. Croatia is home to some one of the best-preserved medieval towns in Europe, some of which miraculously escaped severe damage in the recent war. A Croatia yacht charter can be combined with a Montenegro yacht charter. Talk to our expert team to discuss motor yachts and sailing yachts options for your next yachting adventure.
Experiences
CRUISE! DISCOVER, TASTE, VISIT & ENJOY
At Talamare, we believe that experience can turn a special yacht charter into an extra special one. Take a look at the few examples below and contact our charter planners for details and recommendations.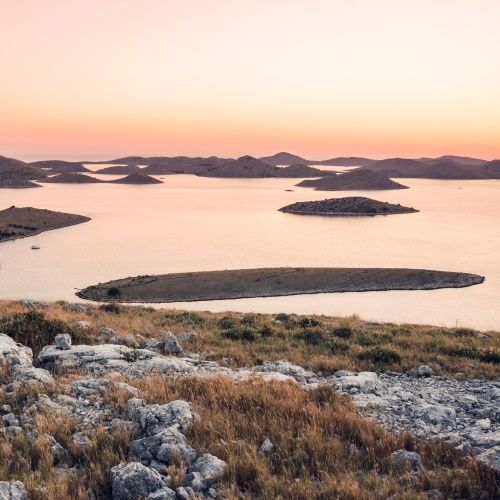 Kornati National Park
The Kornati islands, among the wildest islands of Croatia, are classified as a UNESCO World Heritage site! On your yacht charter, make sure to visit the Kornati National Park which comprises about 90 islets. A peaceful heaven of crystal-clear waters, sheltered coves and spectacular cliffs.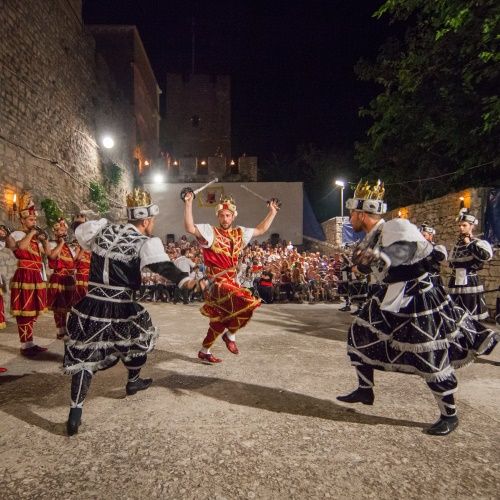 Traditional Moreska dance
The heritage of Korcula is embedded in a traditional sword dance that has been performed for over four centuries. It portrays a battle between two kings and their armies for the love of a beautiful woman.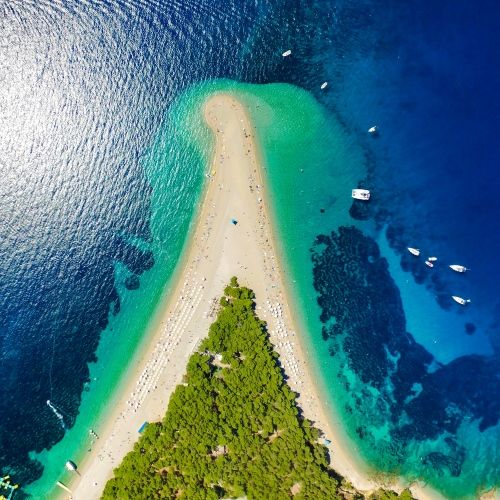 Relax on a unique beach
The beach of Zlatni Rat (golden horn in English) has a particular shape which vary depending on the current. It is a popular spot for water sports, with particularly great conditions for windsurfing and kite surfing. The beach is said to be one of the most beautiful beaches in Europe.
Our favourite spots
Dubrovnik
The fortified town, classified a UNESCO World Heritage site, displays stunning architecture and fascinating history. We strongly recommend you spend some time ashore on your yacht charter, strolling around its cobbled streets, admiring the old fort, churches and monasteries.
Nautika
Restaurant
The city's best fine dining restaurant with fantastic views on the Adriatic. High standard cuisine, impeccable and attentive service, all in a beautiful setting. A must!
Nautika restaurant - Brsalje 3 | Pile Gate - Dubrovnik 20000 - +385 20 442 526
More information
Proto
Restaurant
This old institution serves delicious seafood. It is the place to indulge in fresh fish or oysters. We love the fried squid and the nero risotto.
Proto Fish Restaurant - Siroka 1 - Dubrovnik 20000 - +385 20 323 234
More information
Above 5
Restaurant
A lovely terrace located on the roofs of Dubrovnik. Very cosy, nice food and great service.
Above 5 rooftop restaurant - od Sigurate 4 - Dubrovnik 20000 - +385 20 322 244
City Walls
Curiosity
Walking the city walls will give you a true feel for Dubrovnik. If you're a fan of the HBO series 'Game of Thrones', go on a guided tour to explore the filming locations of Westeros.

Hvar
Hvar is undoubtedly the most cosmopolitan islands in Croatia. Spend your day relaxing, swimming or enjoying water sports in one of the island's secluded bays before making your way to the city centre for a great night out.
Zori
Restaurant
The setting for this restaurant is simply gorgeous and food is excellent. One of the bests in Hvar.
Zori - Pakleni Otoci | Palmizana 19 – Hvar 21450 - +385 21 744 904
Passarola
Restaurant
This restaurant may look basic but the food is sophisticated.
Passarola - Ulica Dr. Mate Milichica 10 - Hvar 21450 - +385 21 717 374
Konoba Dionis
Restaurant
For an authentic Croat lunch, visit Konoba Dionis located on the island of Sveti Klement. Very rustic and the Owner has a strong personality but a good local experience if you're around.
Konoba Dionis - Vlaka, Pakleni Otoci - Sveti Klement Island 1000 - +385 98 167 1016
Antonio
Restaurant
An informal waterfront restaurant located on Marinkovac island, perfect for a meal of fresh fish and seafood.
Restaurant Antonio - Ždrilca Bay 1 – Hvar 21450 - +385 95 8649 544
BB Club
Bar
A trendy spot in Hvar to sip a cocktail while listening to great tunes on the terrace overlooking the port.
BB Club - Bala Riva 27 - Hvar 21450 - +385 91 174 1500
Korcula
Korcula is an enchanting island which captures the old-world charm. As your yacht cruises around its shores, you will find dozens of intimate coves of stunning natural beauty, perfect for a relaxing afternoon.
Lešic Dimitri Palace
Restaurant
Located in a beautiful boutique hotel, this restaurant serves the best food in Korcula and interesting wines, ask the sommelier, he's a real passionate.
Lešic Dimitri Palace - Ul. Don. Pavla 1 – Korčula 20260 - +385 20 715 560
House of Marco Polo
Curiosity
Korcula was the home of world famous explorer Marco Polo. Little remains but there is a nice view at the top of the house.

Mljet
The natural beauty of Mljet is said to have inspired Homer's Odyssey. The northern part being a protected national park, the island remained wild and uninhabited. This green landscape makes an attractive contrast to Croatia's rocky coastlines.
Benedictine Monastery
Curiosity
The island of Sainte Marie, symbol of the national park, is located on a salt lake and is home to a beautiful Dominican monastery and its 12th century church.

Pula
With its turquoise waters, old stone buildings, pine forest and olive groves, Pula has everything you would expect from a Mediterranean seaside resort. The most Italian of all Croatian cities abounds with an impressive cultural heritage: amphitheatre, forum…
Pula Arena
Restaurant
The amphitheatre is the most impressive monument of the city, extremely well preserved. It is one of the biggest ever built by the Roman Empire. Gladiatorial battles took place there until 681 AD.

Rovinj
Rovinj is a traditional fishing village located in the northern Istrian peninsula. A world away from the frenzy of the south, the green archipelago of Rovinj is truly charming and one of the best spots to relax.
Monte
Restaurant
Monte is a truly unforgettable dining experience and the tasting menu is just sensational. The food is very inventive and beautifully presented. Service is fantastic. One of the best restaurants in Dalmatia.
Monte - Montalbano 75 - Rovinj 52210 - +385 52 830 203
Sibenik
Sibenik is a picturesque city to visit on your yacht charter. The Cathedral of Santiago, listed as a UNESCO World Heritage Site, is one of the most fascinating cathedrals in Croatia.
Pelegrini
Restaurant
Said to be one of the best in Croatia, Pelegrini is a top restaurant with amazing food and a fabulous selection of wine. The Chef cooks with the freshest ingredients and offers a traditional cuisine with a modern touch. A must-try if you are around.
Pelegrini - Jurja Dalmatinca 1 - Sibenik 22000 - +385 22 213 701
Split
Split is a city of great cultural interest. Over the years, the old town centre of Split has developed around the ancient place of Roman Emperor Diocletian, dating back to the 4th century.
Zrno Soli
Restaurant
This restaurant has beautiful views over the marina and offers some great seafood.
Zrno Soli - Uvala Baluni 8 - Split 21000 - +385 91 434 3050
Zoi
Restaurant
Zoi is located near the Diocletian palace and serves an inventive cuisine in a beautifully decorated setting. Both fish and meat are great there.
Zoi - Obala Hrvatskog Narodnog preporoda 23 - Split 21000 - +385 21 637 491
Veli Varos
Curiosity
This former fishing village is one of the oldest parts of the town. It's great to walk around if you want some quiet time away from the crowds.

Vis
Step back in time and visit Vis, Croatia's most remote island from the mainland. Closed to tourism by the army until 1990, this charming island is full of treasures left by the ancient occupants: Greek and Roman mosaics, Venetian houses, forts... Some great Croatian wines are produced on Vis such as Plavac or Vugava.
Boccadoro
Restaurant
At Boccadoro, dinner is served in a gorgeous courtyard, certainly the most beautiful terrace of Vis. Staff is very welcoming and food is great. A lovely al fresco experience!
Boccadoro - Ul. Petra Hektorovica 2 - Vis 21480 - +385 21 607 630
Stiniva
Curiosity
One of the most beautiful bays in the Adriatic. Perfect for an afternoon at anchor and some snorkelling.

Zagreb
The charming capital of Croatia often loses out to seaside resorts but the historic centre and the top museums are definitely worth a detour on your yacht charter in Croatia.
Dubravkin Put
Restaurant
This modern restaurant is located next to a park. The Chef prepares very tasty food and the wine list is impressive. A great place to have dinner in Zagreb.
Dubravkin Put - Dubravkin Put 2 - Zagreb 10000 - +385 1 4834 975
Museum of Contemporary Art
Curiosity
The museum has over 12,000 contemporary works by Croatian and international artists from the 1950s to the present day: paintings, sculptures, drawings...

Suggested tours and itineraries
view all