GREECE YACHT CHARTER IN THE IONIAN ISLANDS
With their stunning scenery and some ancient mystery surrounding myths and legends, the Ionian islands are a top destination for a Greece yacht charter.
Destinations
The Ionians are probably the best islands to visit on a Greece yacht charter holiday. Of all the Greek islands, they have the most fascinating history and certainly the most varied landscapes. The Ionian islands are a yacht rental destination with lots to offer and our team of specialists will design an itinerary to suit your tastes and interests: cultural sights, picturesque anchorages, snorkelling and water-based activities, nightlife, gastronomy, high-end shopping… The islands are pretty close to each other and make the best ground for a relaxed yacht charter and blissful island-hopping. The glorious beauty of manour houses in olive groves and orange gardens, the perfect combination of blue skies and white tiny chapels, winding streets, lovely donkeys and the best hospitality you can find in Greece: no doubt you will be seduced by the Ionian sea… The rich history of the region has clearcly shaped the archipelago and you will enjoy a wealth of culture, remarkable architecture, great music and insane food. A true paradise awaits for your sailing vacation…
Experiences
CRUISE! DISCOVER, TASTE, VISIT & ENJOY
At Talamare, we believe that experience can turn a special yacht charter into an extra special one. Take a look at the few examples below and contact our charter planners for details and recommendations.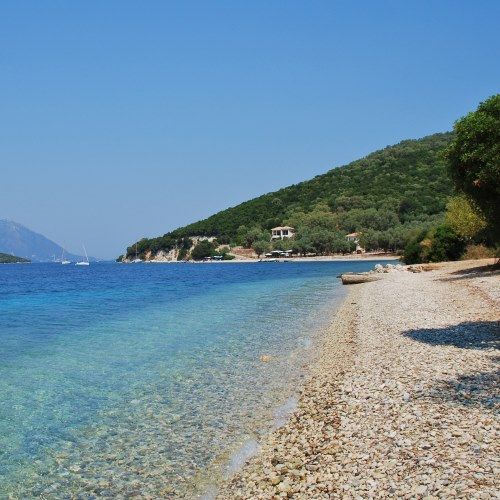 Swim in your private cove
The island of Meganissi is a little gem. There is not much to do but it is a beautiful tiny island with a pretty little port, picturesque stone houses and stunning beaches – if you're lucky you can have you own private cove as the island is not that touristy. The waters are perfect for snorkelling.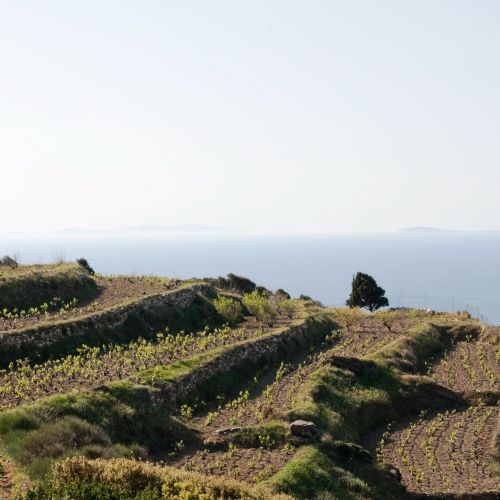 Try some local wine
The tiny island of Antipaxos has a production of some rare but celebrated bottles of local wine. We recommend you try Fidias or Petrokoryntho.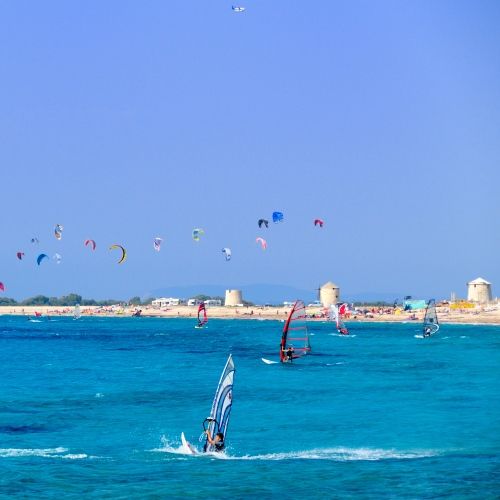 Learn windsurfing
The Ionians have some famous windsurfing spots such as Vasiliki on the island of Lefkada. Wild Wind offers the best facility.
Our favourite spots
Corfu
Corfu is the most cosmopolitan island of the Ionians with a strong Western influence. Although the island is very touristy, you can still feel its history. Corfu has excellent dining options and is definitely a must-stop on your yacht charter in the Ionians.
The Venetian Well
Restaurant
Our favourite restaurant in Corfu. The most beautiful setting on a lovely square of the old town. The Chef prepares delicated dishes with a strong Mediterranean influence. Very romantic!
The Venetian Well - Kermastis Square | Lili Desila 1 - Corfu Town 49100 - +30 2661 550955
Toula's
Restaurant
An excellent seaside fish restaurant located in the bay of Agni. Food quality is the best, service is very attentive and the wine list is great.
Toula's - Agni 49083 - +30 2663 091350
Etrusco
Restaurant
Exceptional food prepared by a famous Greek Chef. We recommend you go for the tasting menu. Lovely setting with a chilled atmosphere and great service.
Etrusco - Kato Korakiana 49083 - +30 2661 093342
Ithaca
Known as the verdant birthplace of Odysseus according to Homer's Odyssey, Ithaca is stunning, rugged, mountainous and well preserved with lovely tiny harbours and villages. A great island for pure relaxation! The island's capital, Vathi, is quite lovely to visit if you want to spend some time ashore.
Monastery of Panagia Kathariotissa
Curiosity
This 17th century monastery has magnificient icons and frescoes.
Monastery of Panagia Kathariotissa – Anogi
Kefalonia
Little remains from the Venetian, French and British occupations as a large part of the island was rebuilt following a massive earthquake in 1953. However, Kefalonia offers a beautiful landscape with moutaineous valleys, dramatic cliffs, white sandy beaches and sparkling coves. Don't miss the picturesque village of Fiscardo.
Tassia
Restaurant
Located on the harbour, this charming restaurant serves delicious food – not very traditional but we like it, especially the roasted lamb.
Tassia - Apolitos Wharf – Fiscardo - +30 2674 041205
Myrtos
Curiosity
One of the most beautiful beaches in all Grece. A must-stop on your yacht charter.

Melissani
Curiosity
If you have children with you, this is a must-do. Melissani is a spectacular underground cave. Someone will row you around so that you can explore. Beware, you will have to share your boat with other people.

Lefkada
The island of Lefkada has a slightly different feel from the other Ionians being connected to the mainland by a bridge. However, there is a few lovely seaside towns and authentic mountain villages to explore. The best beaches around are Egremni, Kathisma and Porto Katsiki.
Seaside
Restaurant
A waterfront restaurant which serves good food. Beware portions are massive.
Seaside – Geni 31084 - +30 697 773 5889
Paxos
The smallest of the Ionians is quite unspoilt. On Paxos, you will experience authentic Greek hospitality at its best. Paxos has a good choice of white sandy beaches to choose from, perfect for an afternoon relaxing at anchor or some water sports.
Akis
Restaurant
A charming waterfront fish restaurant. Great spot for lunch. We particularly enjoy the swordfish carpaccio.
Akis - Lakka 49082 - +30 2662 03124
Erimitis
Restaurant
This restaurant perched on cliffs offers wonderful views at sunset. Very relaxed atmosphere and welcoming staff. Drinks are great, food is average.
Erimitis – Magazia - +30 697 775 3499
Zakinthos
Zakinthos was once the most intellectually advanced land in Greece with theatres, writers, musicians… Sadly, everything vanished with the 1953's earthquake. The southern coast is very busy and packed with tourists but the north is stunning with ancient villages, ruined historic estates and beautiful gardens.
Nobelos Bio
Restaurant
This restaurant has a fabulous cliffside setting overlooking the sea. The Chef prepares delicious dishes using organic ingredients and the freshest seafood. Great for lunch.
Nobelos Bio - Agios Nikolaos, Volimes 29091 - +30 694 414 8283
Sarakina
Restaurant
The mansion of the Lounis family makes for a great visit and you can feel the splendour of this Venetian estate. Don't miss the tiny chapel.

Navagio beach
Restaurant
No doubt you've seen this beach before. It has to be the most photographed beaches of all times. Accessible only by the sea. If you're lucky you might spot some turtles and seals around.