Esterel yacht charter
Bordered by the Mediterranean, the Esterel massif stands out with its rugged topography and red rock. This characteristic red gives the landscape a particular charm that is sure to impress during your day yacht charter.
1-day tour
This yacht charter tour will give you the opportunity to discover the volcanic massif of the Esterel, which borders the Mediterranean. Its distinctive red rock and steep reliefs give the landscapes a particular grandeur. The program for your yacht charter includes wild coves, turquoise waters and breathtaking panoramas. The various coves are difficult to access by land and therefore the number of swimmers is limited, even in the height of summer. The Esterel has a relatively dense vegetation and a varied fauna. It is a wild massif that does not have any inhabitants. However, as you progress along the coast you will find some small seaside resorts nestled in these beautiful red mountains. This tour is particularly designed for people looking to discover the wild side of the Côte d'Azur when renting a yacht.

This tour is available from St Tropez, Cannes, Antibes, Nice and Monaco.
Suggested itinerary
day
1
Esterel - Esterel
Embark in your preferred port at 10:00am. Enjoy a day of scenic coastal cruising along the beautiful wild lanscapes of the Esterel Massif exploring some enchanting coves. Your first stop is the stunning sheltered bay of La Napoule where you can have a swim and snorkel. Keep cruising passing Theoule-sur-mer to reach the pretty bay of Agay and the Cap Dramont where red rocks contrast with turquoise waters and the Golden Island rises from the sea. Sail from one pretty cove to the next, stopping as you wish to swim or snorkel. Don't miss the "Calanque de Maubois", "Calanque de Saint-Barthelemy", "Crique de l'île des Vieilles" and "Calanque des Anglais". For snorkeling enthusiasts, Cap Roux has a remarkable biodiversity. Lunch is taken in a waterfront restaurant unless you decide to have a picnic - let us know your preferences so we can recommend the best options for you. Timing permitting, a visit to the nearby Lerins islands can be considered during the afternoon. Disembarkation is scheduled at 06:00pm in your preferred port.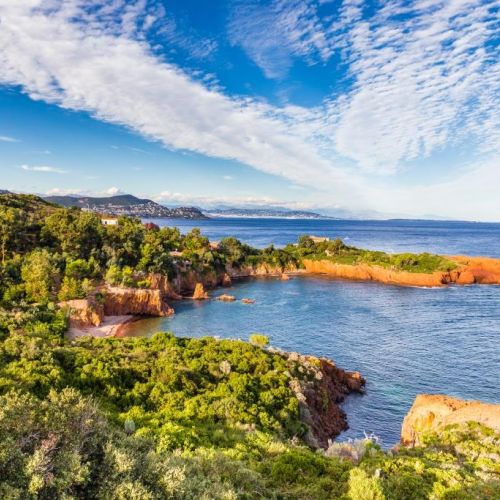 ENHANCE YOUR EXPERIENCE
Upgrade your yacht charter with extras when you book with us.
Restaurant booking
Catering options
Extra staff including private chefs
Jet-ski rendez-vous or any water toys activity
Cultural guided tours
Special celebration onboard
Transport services