What to expect from your day yacht rental on the French Riviera?

The French Riviera offers a stunning coastline with a number of famous seaside resorts including St Tropez, Cannes and Monaco. The entire area can be visited over a period of about a week (see our French Riviera week yacht rental itinerary here). However, there is a variety of possible day yacht rental itineraries to explore some corners of this beautiful coastline. Have a look at our Cannes and the Lerins day yacht charter itinerary or our St Tropez beach day yacht charter itinerary to have a better idea of what we can offer. A day yacht rental is certainly a unique and memorable way to experience the French Riviera and our yacht rental specialists will recommend the best cruising itinerary based on your preferences and the time you have available. Email us to start planning the ultimate day yacht rental in the south of France!

For a glimpse of your day at sea, here are some of the highlights. For more inspiration, feel free to visit our page dedicated to tours on the French Riviera.
Embarkation
You will embark in the port of your choice, as indicated on your yacht rental contract.

At the latest the day before your departure, your yacht charter planner will have provided you with a map showing the location of the yacht in the port as well as your Captain's telephone details to facilitate communication.

If you have any doubt or feel you are lost, call us.
Life on board
The crew will do their best to make your stay on board as pleasant as possible. You will be able to enjoy all the equipment of your rental yacht. In particular, towels will be provided for swimming.

Think about your sunglasses and sunscreen. If you are particularly sensitive to the sun, make sure you book a boat with a shade cover. This will allow you to benefit from a protected shaded area on board.

In order to preserve the boat, you will be asked to remove your shoes on board.

Stay alert when moving around on board, the sea could destabilize you.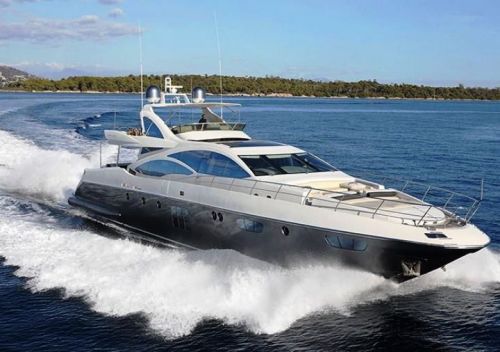 Cruising
To ensure that your day at sea is enjoyable, your yacht charter planner will keep your sailing time to a reasonable level and will recommend a suitable cruising itinerary.

If you tend to get seasick, think about telling your yacht charter planner.

Some boats are more comfortable than others when sailing, some sail faster than others... We will ask you a few questions to guide you towards a yacht that will suit you and your guests.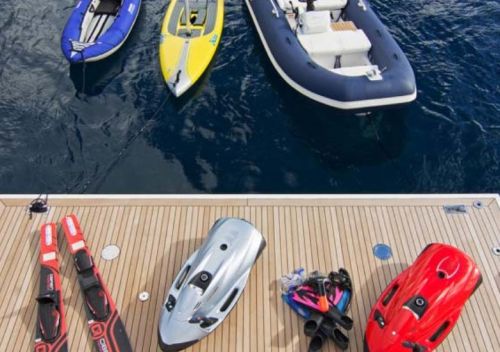 Activities
The main activity you will enjoy when renting a yacht for a day on the French Riviera is swimming. Depending on your cruising itinerary, you will be able to swim in coves, in lagoons or near
superb sandy beaches
such as the famous Pampelonne beach located in Ramatuelle. The
Cannes and Lerins islands day yacht charter itinerary
is a Talamare favourite for its beautiful natural environment and its dream lagoon for swimming. The crew have an excellent knowledge of the area and will be able to advise the best anchorage points depending on the weather and the crowds of boats on the day of your rental. You can also go on a snorkeling expedition and admire the seabed of the Mediterranean Sea.
If you have booked a
yacht with a selection of water toys
you can of course enjoy all the aquatic equipment available on board your yacht.
If your boat does not have water toys, it is definitely possible to organize sessions with our local partners. Ask your yacht charter planner for more information.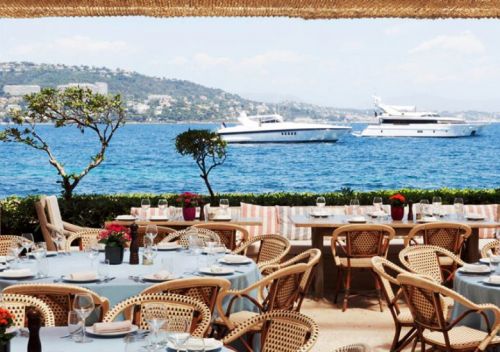 Lunch
You can choose between lunch on land or on board.

The French Riviera offers a fantastic selection of restaurants and beach clubs accessible directly from the sea. Arriving by boat and dropping anchor at lunchtime is an integral part of the experience of a day yacht rental on the French Riviera! Among the iconic beach clubs on the French Riviera, Club 55 in St Tropez, Bagatelle in St Tropez or Paloma in Saint-Jean-Cap-Ferrat.

If you are planning a lunch on land and according to your cruising itinerary, your yacht charter planner will recommend the best restaurants based on your preferences and will take care of your reservation.

If your yacht's crew includes a Cook or Chef, a meal can be prepared on board for you. In this case, your yacht charter planner will provide you with a preference questionnaire where you can indicate your tastes and any allergies.

If the crew of your boat does not include a Cook or Chef and you wish to have lunch on board, it will be possible to place an order with your yacht charter planner or to bring food yourself.
Disembarkation
Disembarkation is scheduled in the port of your choice, as indicated on your yacht rental contract.