Corsica's most scenic anchorages to visit on a yacht charter

Chartering a yacht in Corsica: top 5 dream anchorages
Planning a Corsica yacht charter and dreaming of stunning white-sandy beaches, peaceful anchorages and a picturesque scenery With over 1000 km of coastline, Corsica boasts a multitude of stunning locations to drop the anchor and enjoy a swim, the water-based activities offered by your yacht or admire a beautiful sunset. Your Corsica yacht charter will take you to wild and secluded bays where you can enjoy the island's natural character from the deck of your yacht. Our yacht charter planners have put together a selection of the 5 most beautiful anchorages to visit when you charter a yacht in Corsica.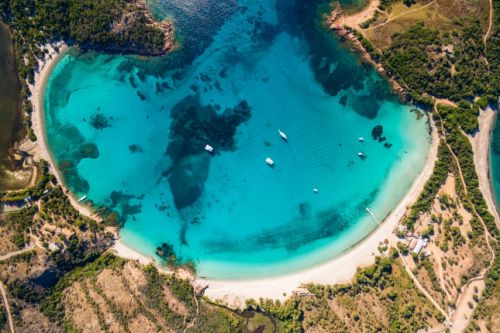 The beach paradise yacht anchorage in Corsica: Rondinara
Regularly ranked among the most beautiful beaches in the world, Rondinara is located halfway between Porto-Vecchio and Bonifacio. With its stretch of sand, red rocks, turquoise water and vegetation, this Corsican beach attracts many visitors. A Corsica yacht charter is the ideal way to discover this stunning paradise. While your yacht sits at anchor, enjoy a swim and make the most of the water toys equipment of your charter yacht.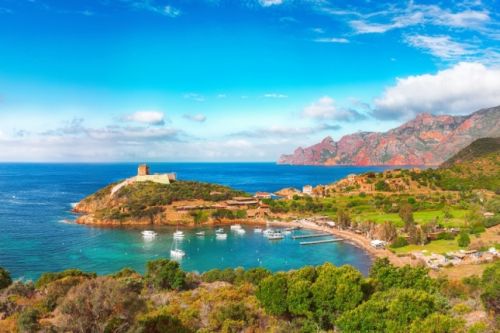 The picturesque yacht anchorage in Corsica: Girolata
During your yacht charter in Corsica, don't miss the anchorage of Girolata which is located close to the Scandola Reserve listed as a UNESCO World Heritage Site. Girolata offers a secluded yacht anchorage with typical landscapes of Corsica: large cliffs climbing steeply from the waters, scrubland and crystalline waters. Girolata has its own small port and an authentic village of a few dozen inhabitants as well as some rustic restaurants serving ultra-fresh seafood including the Scandola lobster. Snorkelling is great and you can also explore the sea caves. Girolata will certainly be one of the most memorable stopovers on your yacht charter in Corsica.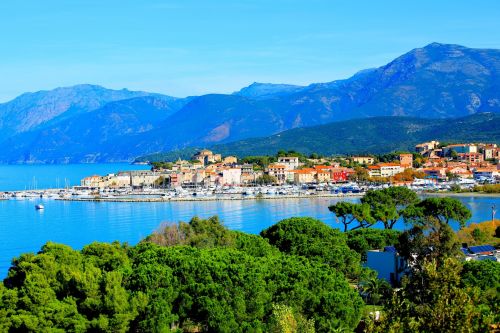 The iconic yacht anchorage in Corsica: Saint-Florent & L'Agriate
Saint-Florent is one of the most popular places in Corsica - some people argue it's the local "Saint-Tropez". Nestled between mountains and sea, this ancient Genoese city attracts many tourists with its dream beaches, vineyards and spectacular harbour. The anchorage of La Mortella offers a superb setting and more privacy. If the weather conditions allow, spend a day at anchor in the Agriates desert, we particularly recommend the beach of Saleccia.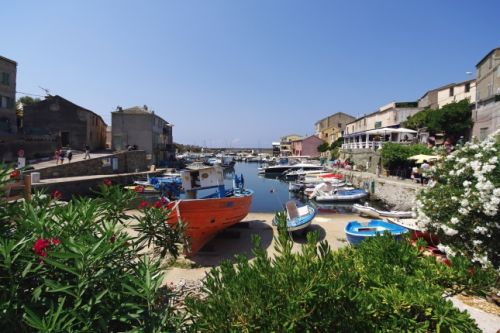 The authentic yacht anchorage in Corsica: Centuri
Far from the idyllic beach anchorage, the small port of Centuri offers an authentic anchorage for your yacht charter in Corsica. This small haven of peace located on Cap Corse will surprise you by its untouched beauty. With its old houses, picturesque alleys, fishing activity and windmill, Centuri is one of the most emblematic villages in Corsica and a must-stop if you're cruising in the area.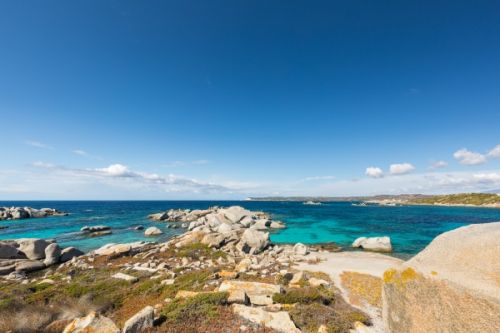 The island yacht anchorage in Corsica: Cavallo
A few nautical miles away from Bonifacio, Cavallo is part of the Lavezzi archipelago. Romans used to send prisoners on Cavallo island to extract granite for building their temples. But today Cavallo is a place of pure luxury and relaxation with numerous private properties and a few restaurants. With its white-sandy beaches, crystal-clear waters, rocky coved and lush maquis, Cavallo is the perfect anchorage for your Corsica yacht charter. This private island also boasts L'Hôtel des Pêcheurs where you can have lunch and enjoy the spa.
To enjoy the most beautiful anchorages in Corsica and a unique view of the island, consider chartering a yacht with Talamare. With years of experience, our charter planners will recommend the best cruising itinerary for your yacht charter in Corsica. For more information on chartering a yacht in Corsica, do not hesitate to contact us or browse our
Corsica yacht charter
destination guide.