Secret Greek islands for your next yacht charter in Greece

While Mykonos, Santorini and Corfu are popular with yacht charterers, other Greek islands are less well known and worth a visit when you charter a yacht in Greece. Planning to rent a yacht in Greece this summer with an off the beaten track cruising itinerary? In this post we share our secret islands to discover during your yacht charter in Greece. Not so famous as their neighbours Mykonos or Santorini, these islands could well become your Greek secret paradise. Preserved from mass tourism, with pure beauty and authentic charm, this is the place to enjoy the beach and island life, far from the crowds. Here are some ideas to discover secret treasures during your next yacht rental in Greece.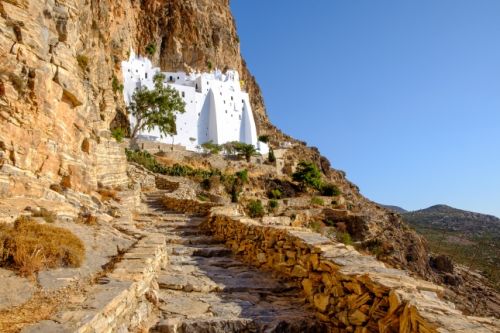 AMORGOS
During your
Cyclades yacht charter
don't miss Amorgos, a tiny island of rare beauty still spared from mass tourism. Ancient traditions are being preserved, as well as old paths and authentic villages. At anchor you will enjoy crystal clear waters and idyllic beaches. The island is famous for hiking and scuba diving - it is here that the French film The Big Blue was shot. The most adventurous can climb the stairs leading to the magnificent monastery of Hozoviotissa, built on a hillside. For lunch we strongly recommend you head to Tranzistoraki located in a cute alley in the main town. The place is absolutely charming and serves delicious local food.
IKARIA
The island of Ikaria takes its name from Greek mythology. Icarus would have died in the area as he flew too close to the sun, melting his wax wings. There is no stress on Ikaria, time seems to have stopped and the inhabitants with their sulphurous reputation lead a peaceful existence living to the rhythm of the paniyiria (popular festivals). One of the activities on the island consists in bathing in radioactive hot springs - this may explain the longevity of the inhabitants. The landscapes are varied: lush vegetation, rivers, rocky formations... and the
beaches
exceed all expectations. If you fancy a cooking class during your yacht charter in Greece, don't miss the country house kitchen of Chef Diane Kochilas.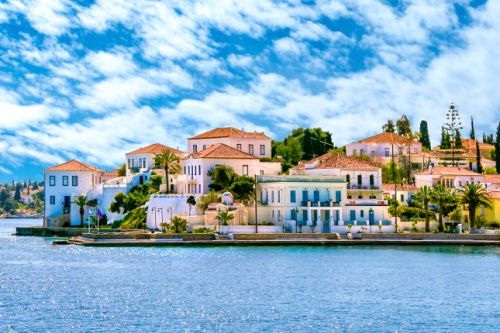 SPETSES
Located in the Saronic Gulf, the island of Spetses seduces yacht charterers with its chic and bohemian soul. Its small port is considered to be one of the most beautiful in Greece. The island is characterised by its white houses with red brick roofs and by its pine forests which cover almost half of the island. In terms of restaurants, we strongly recommend To Nero Tis Agapis where you can enjoy fresh local fish on a superb terrace overlooking the water.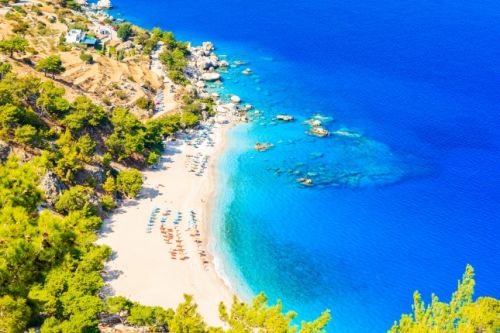 KARPATHOS
Located in the Dodecanese archipelago, between Crete and Rhodes, Karphathos is a beautiful island that deserves to be visited during your yacht rental in Greece. Karpathos is best known for its large sandy beaches. Most of the time, you will find them deserted, as are the picturesque villages in the hinterland. In the village of Olympos, dating back to the 9th century, you may see women in traditional costumes baking bread in open ovens. Karpathos has many underwater caves, which will give you the opportunity to undertake exciting snorkelling expeditions.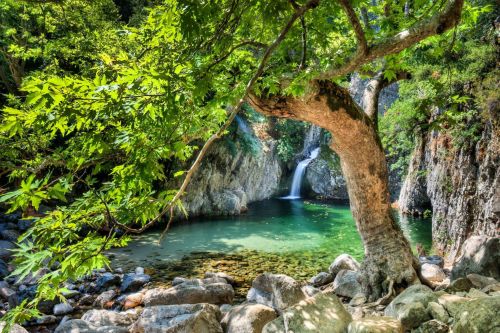 SAMOTHRACE
Samothrace Island arouses conflicting feelings. Either you fall for it or you hate it. The island will suit hiking enthusiasts and explorers, yacht charterers who are looking for authenticity and proximity to nature. On Samothrace, nature is thriving: mountains, waterfalls and natural pools... If you venture onto Samothrace, do not miss the visit to the shrine of the Greek Gods, one of the most important archaeological discoveries in Greece, with spectacular remains.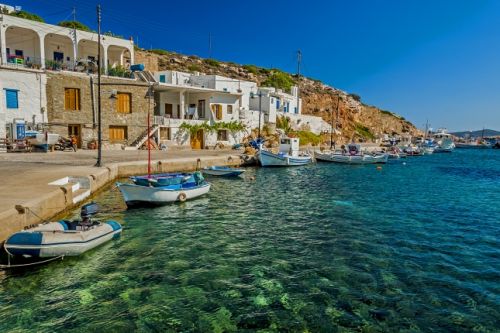 SIFNOS
Sifnos is the typical island of the
Cyclades
without the frenzy of mass tourism. That said, it is very popular with the Greeks who particularly enjoy the main town of Apollonia. To put it simply, Sifnos is on the rise but the island remains authentic and has its culinary reputation. As you wander around the island you will notice the impressive number of religious buildings - there are reportedly nearly 350. At the time, the Turks required the Greeks to pay a tax on all land properties except those with a church.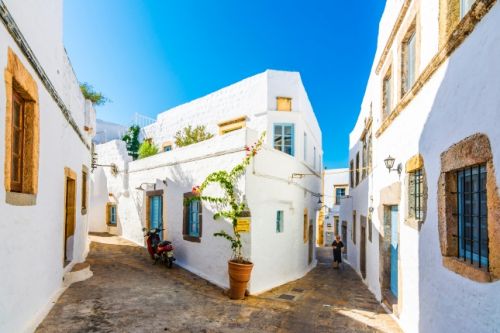 PATMOS
Patmos is commonly known as the island where Saint John wrote the Book of Revelation – you can visit the cave where he supposedly got his visions. If it is not unusual to meet pilgrims on the island, Patmos is also dotted with beautiful beaches and the hinterland is a rural paradise. If you're planning to have lunch on Patmos, we recommend you visit George's Place where you can sample some Greek food in a laid-back atmosphere.
Interested in venturing beyond the more famous Greek islands? Finding the best island combination for your yacht charter in Greece is more of a challenge! Leave it to Talamare and contact us to find out more about a yacht charter holiday in Greece. Based on your preferences and requirements, our charter planners will recommend the lesser-known secret Greek islands to visit and create a tailor-made cruising itinerary for your yacht rental in Greece.