Exploring Corfu on a yacht charter

Corfu, located off the northwestern coast of the Ionian Sea, is characterised by its steep mountains and numerous seaside resorts. Combining beautiful beaches with an incredible cultural heritage and culinary delights, Corfu Island is the ideal destination for your next yacht rental. Take a look at some of our favourite places on and around the island. This will give you some ideas for your next yacht charter in Corfu.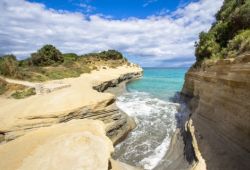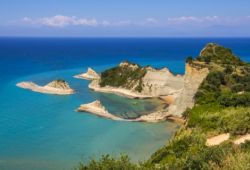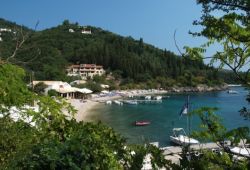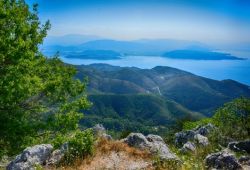 Sidari
Sidari is a charming seaside resort with a beautiful beach surrounded by small cliffs. The beach is home to the Tunnel of Love, legend tells that those who swim through the channel will find their soul mate. The place is beautiful especially at sunset. Be warned, in high season, there are many tourists around.

Cape Drastis
If you like to admire a dramatic natural landscape from the deck of your charter yacht, set sail to Cape Drastis. With its spectacular white cliffs, the cape seems to have been eroded by the sea. It's particularly beautiful at the end of the day when the sun hits the cliffs.

Agni Bay
Agni Bay, a beautiful and preserved stretch of Corfu's coastline, is one of those authentic places you must visit. This traditional fishing village is an excellent example of the island life on Corfu. If it is lunchtime, you can enjoy excellent seafood in one of the waterfront taverns. Nikolas' Taverna is a favourite amongst locals. Anchor your yacht off the bay and explore!

Mount Pantokrator
Discover Mount Pantokrator, the highest mountain on Corfu. The ascent is worth the effort as you can admire the most beautiful views of the island. On your way up, you will cross a quasi-desert landscape with a multitude of limestone hills and rare vegetation.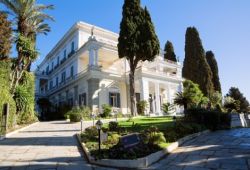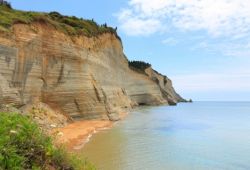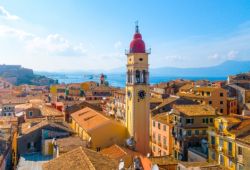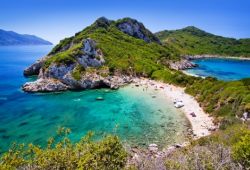 ACHILLEION
Want to feel like a prince(ss)? In such case, you should visit the Achilleion Palace, located 10 km from the old town. The Empress Elisabeth of Austria (Sissi), had this holiday residence built at the end of the 19th century and named it after her favourite Greek hero, Achilles. Surrounded by classical Greek sculptures, the palace exudes romanticism.

LOGAS BEACH
Logas Perouládes is a small beach surrounded by cliffs and considered one of the most beautiful places on the island of Corfu. We recommend you go there just before sunset to enjoy the magnificent lights that project onto the cliffs. You can also sip a
cocktail
in one of the bars unless you decide to stay on your charter yacht!
KERKYRA
Kerkyra is the name given to the old town of Corfu which is listed as a
UNESCO World Heritage site
. Make sure you spend some time strolling through the maze of narrow streets. Some of the key monuments to see are the fortress, the Liston, the statue of Georgios Theotokis and the church of Saint Spyridon.
PORTO TIMONI
This narrow strip of land that separates two of Corfu's most beautiful beaches offers a breathtaking setting. The water is crystal-clear and it is a very good spot for those who want to enjoy some snorkelling during their yacht charter in Corfu.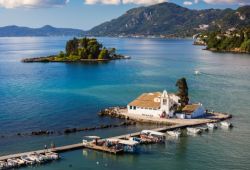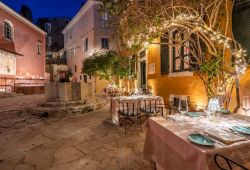 Vlacherna Monastery
This is the postcard picture in Corfu! 2 tiny islets on a turquoise sea, a white monastery, some fishing boats. An impression of tranquillity and peace. We strongly recommend that you go in the morning before the place gets packed.
The Venetian Well
When it comes to gastronomy, Corfu does not disappoint. We suggest that you book a table at The Venetian Well during your Corfu yacht charter. Nestled on a small authentic square, away from the crowds, this restaurant serves a refined and creative cuisine which blends French and Greek flavours, and with a 5-star service!
Corfu island has far more to offer than sea and sun! There is plenty to do and see and a yacht rental is the perfect way to explore. After reading this article, we bet you're about to click on "book now" so contact our charter planners today to arrange your yacht charter around the Mediterranean island of Corfu.